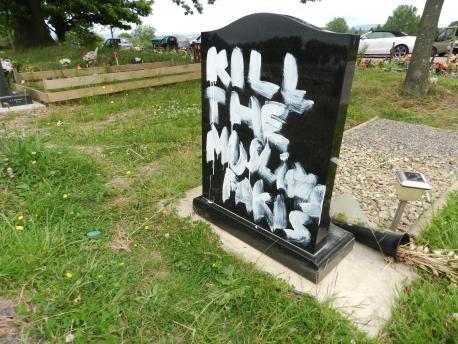 A senior Newport officer said police have been organising patrols for mosques in light of threats elsewhere in the country. The city's Superintendent Mark Warrender said a recent attack on four Muslim graves in a Newport cemetery was despicable and that officers were working hard to find out who did it.
He spoke at a meeting of Newport full council in response to a question from Labour Victoria ward councillor Majid Rahman who asked what precautions were being made in relation to mosques in Newport.
There have been a series of attacks aimed at Muslims in England and Wales since the murder of Lee Rigby in London earlier this year.
A man was charged on Tuesday in relation to explosions outside three Midlands mosques, while vandals desecrated Muslim graves at Christchurch Cemetery with racist graffiti last month.
Supt Warrender said the recent attack on Muslim graves attack was a "despicable act and was of great concern to" police. He said police were working tirelessly to identify individuals responsible for the crime.
Supt Warrender said officers have a "fantastic relationship" with Newport mosques and he said they had been spoken to regarding any concerns they had. "There have been some patrols in relation to mosques, according to what mosques want," he told councillors. He said that the situation was being monitored and attacks had thankfully been restricted to other areas.
Cllr Rahman said: "We're living in extraordinary times right now, where events hundreds of miles away can affect people's lives closer to home. The police work with all mosques on a regular basis anyway. As long as they keep that line of communication open I don't see any problems arising."
Ukrainian engineering graduate Pavlo Lapshyn, 25, appeared in court last Tuesday charged with terrorism-related offenses in connection with the explosions outside the three mosques. He also faced a further charge of murdering 82-year-old Mohammed Saleem, from Birmingham.
In June four Muslims graves at Christchurch Cemetery in Newport were desecrated with racist graffiti. Vandals used white paint to write "Lee Rigby murder," "white power" and draw swastikas.