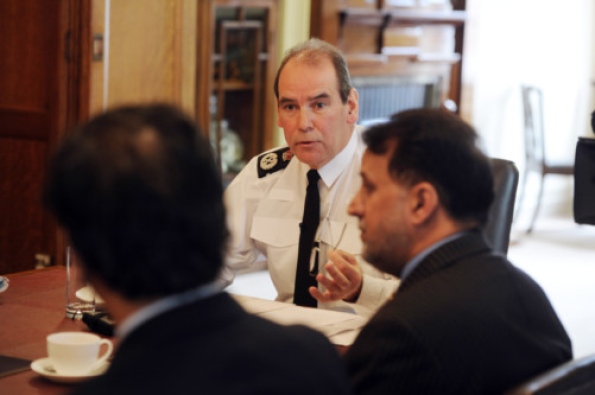 Grooming children for sex is a growing scourge that cuts across all communities, West Yorkshire's chief constable warned yesterday as he met Muslim community leaders at a summit to tackle the problem.
Sir Norman Bettison insisted the crime was not a racial or cultural issue. The type of exploitation seen in cases such as the recent Rochdale scandal, in which a gang of Asian men preyed on vulnerable young white girls, was just one of its many faces, he said.
"I believe there is a problem that is very widespread, not just in Yorkshire, not just within the Muslim or Asian community, but there are girls who are vulnerable and those vulnerabilities are more and more often these days exploited," he said. "What these cases have done is they have shone a light on this type of exploitation."
Sir Norman said young girls were also seen as "easy meat" by some young white men and insisted sexual exploitation was "not a faith or a race issue". "We witness that sort of approach and attitude any Saturday night in any of our towns and cities," he said.
He also warned children are as vulnerable to sexual exploitation online as they are on the street. "There's a growing trend of exploitation, predominantly of young girls, but also young boys, for sexual ends," he said.
"It's got lots of faces. It's got groups of men on the street who are identifying and picking up vulnerable girls, but it's also got people sitting in the comfort of their sitting rooms or bedrooms. Social media opens up a newer means of sexual exploitation."
He said the summit, attended by the Bradford Council of Mosques' president Rafiq Sehgal and secretary Zulfiqar Karim, had cemented a commitment to jointly tackle the issue.
"The powerful thing is the determination and willingness of the religious leadership to be involved in preventing exploitation in the future and sending a powerful message to Muslim communities that this is abhorrent behaviour that should be stamped upon," he said.
"The reassurance that we've been getting is that the communities themselves are very keen to be involved in sending out a powerful message of abhorrence and intolerance at this criminal behaviour."
He added conversations with community leaders and agencies in other parts of West Yorkshire would soon follow.