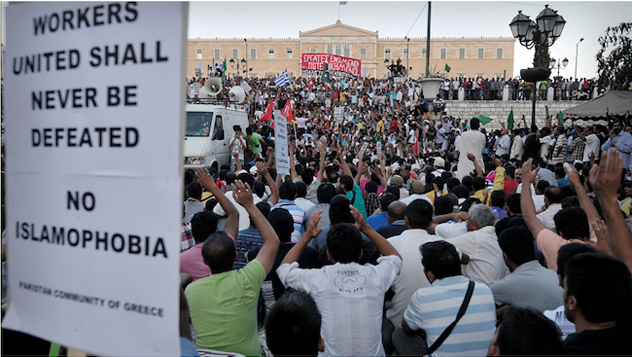 Demonstration against racist violence in Athens last August
The Council of Europe's commissioner for human rights has told Greece to toughen its measures to combat a surge in massive racial violence.
The council published a report on Tuesday, in which Nils Muiznieks said that he was "seriously concerned" by the increase in hate crimes targeting immigrants in the southern European nation.
"Democracy in Greece is seriously threatened by the upsurge of hate crime and a weak state response. Sustained and concerted action, notably by the police and the courts, is necessary to protect the rule of law and human rights in the country," said Muiznieks.
The commissioner noted that there is only one appointed prosecutor to monitor hate crimes in greater Athens as well as police officers tasked to deal with the problem have only been trained for two days.
The Commissioner also expressed deep concern by "persistent reports of ill-treatment, including torture, committed by law enforcement officials notably against migrants and Roma."
Analysts link the raise to the increase of popularity for the ultra-rightist group, Golden Dawn, which won a shocking 18 seats in the 300-seat Parliament in June 2012.
The report describes Golden Dawn as a "neo-Nazi and violent political party" that should be secluded under legally binding international human rights conventions signed by Greece.
Muiznieks added that Greece would be "fully within its rights under international human rights law" to outlaw the party from public office.
According to the council, a number of reported attacks, which mostly targeted south Asian immigrants, have been linked to members or supporters, including members of parliament, of the Golden Dawn, which denies any direct involvement in the crimes.
The Council of Europe is a unit from the EU and it runs the European Court of Human Rights, which implements the rights code signed by the council's 47 member states.