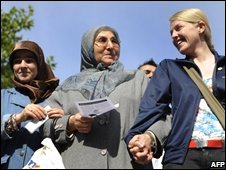 German police cancelled an anti-Islamic congress planned for Saturday in Cologne after leftist opponents of the rally clashed with its right-wing backers.
The group Pro-Cologne called the rally to oppose a decision by local authorities in Cologne, Germany's fourth largest city, to allow the construction of a mosque with a high dome and minarets.
It invited like-minded nationalist groups from around Europe to join the "Stop Islam" rally to fight what it called the "Islamisation and immigration invasion" of Germany and Europe.
"The rally has been cancelled," a police spokesman said. Many protesters cheered the announcement. A spokesman for Pro-Cologne said they were surprised by the cancellation and would hold a news conference later on Saturday.
Police said 40,000 people protested against the rally. It had been expected to attract 1,500 people but only dozens made it.
Some of the protesters carried placards reading "Nazis out of Cologne" and "Temples, synagogues, churches and mosques – everything's okay". "We're here to show racism the red card," said Cologne mayor Fritz Schramma. "Racists and extremists aren't welcome."
---
See also the AFP report which states: "German police said tens of thousands of Cologne residents took to the streets Saturday in protest at an 'anti-Islamisation' conference of European far-right leaders. Carrying banners saying: 'We are Cologne – Get rid of the Nazis!', protesters gathered outside the city's cathedral to demonstrate against the congress organised by the local far-right group Pro-Koeln (For Cologne)."
Update:  The BNP's London Assembly member Richard Barnbrook is not best pleased. He travelled all the way to Cologne to address his fellow racists and never got to speak. Probably just as well for the BNP as it happens, given that Barnbrook's inarticulate ramblings at London Assembly meetings have reportedly reduced him to a laughing stock at City Hall.