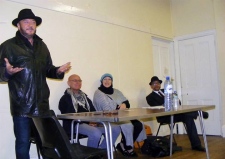 George Galloway took to the stage last night to re-launch his Respect party in Newham and try to force a local election after the council rejected plans for a so-called mega mosque.
Mr Galloway vowed to put a petition up on the Downing Street website, as soon as parliament resumes after its Christmas break, demanding Newham Council changes its decision on the mosque or changes its leadership.
Mr Galloway, a former MP for Bethnal Green and Bow and now the MP for Bradford West, said he believed Newham is ready for a political revival after Newham councillors voted down a planning application for a mosque holding more than 9,000 people in Canning Town, run by followers of the controversial Tablighi Jamaat movement.
More than 50 people turned out for the public meeting in Plaistow which also saw Lee Jasper, a former advisor to previous London Mayor Ken Livingstone and Yvonne Ridley, a war correspondent who converted to Islam after being captured by the Taliban, take to the stage.
Dressed all in black Mr Galloway told people gathered inside Harold Road Centre, off Green Street, that he would send one of his top people to challenge Newham Mayor Sir Robin Wales' leadership in Newham at the next local election. He did not rule out that he might take on the challenge himself.
If the Respect party does not succeed in forcing an early election in Newham, following the refusal of the mosque, then the party plans to put up a Mayoral candidate and councillors in 2014 when elections are due.
Mr Galloway said: "Newham is ready for a political revival and as far as we're concerned it begins here tonight. We know there is something rotten in this borough. New Labour has far too much power for the good of the borough.
He then hit out at the councillors decision to reject the mosque. "It's a big mosque because a lot of people want to pray to the almighty. What is wrong with praying?"
Mr Galloway went on to say that you can lend money at high interest rates at a time when "destructive" aspects of society such as alcohol and gambling is rife. "But you can't build a mosque," he said.
"There are 90,000 Muslims voters in Newham as Labour is going to find out at the next local election. And they have all just got a slap in the face by their own leadership."
He asked the audience if they thought the council would have turned down plans for a Catholic church or Jewish synagogue. "They did it because the people involved are Muslims. And because they thought they could get away with it," he said
And he warned New Labour they could suffer the same fate as in Tower Hamlets where he defeated their MP Oona King in 2005.
Mr Galloway said: "Oona King, who is now skating on ice, voted to attack Iraq when 90 per cent of her electorate where against the war because she thought she could get away with it because who else would they vote for in Tower Hamlets. There was only me so she thought there would just be a bit of rocking of the boat."
He branded the decision to reject the mosque an insult to Muslims in Newham. "We can't take the decision on the mosque lying down. All my experience in Bradford and Tower Hamlets tells me that if you fail first time try again. The leadership in Newham must be changed."
Newham previously had three Respect councillors but all sitting councillors are Labour.