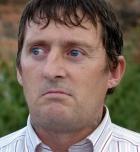 The offensive actions of a Gainsborough man were blasted by a judge as he was jailed for displaying inflammatory racist posters in the front window of his flat.
Darren J Conway covered the window of his Heaton Street flat with posters, literature and photographs which attacked the Prophet Mohammed and the Muslim religion. Conway, a former BNP member and supporter of the English Defence League, attracted comments from passers-by and workers at nearby businesses with his offensive display.
Among the slogans on show from his ground-floor window were "Jihad works both ways", "no surrender", "Muslims are the most hateful of them all" and a letter confirming that he was a member of the BNP. A passer-by reported Conway after being disturbed by the pictures of mutilated Muslims with graphic and obscene messages and imagery.
Worksop Guardian, 12 March 2012
Robert Spencer is outraged that Conway has been jailed: "Is England Saudi Arabia now? Is Sharia in effect?" Pamela Geller agrees: "Clearly, the UK is fast becoming the first Islamic state in Europe."
Other commentators concur with the view that the punishment imposed on Conway was a breach of his right to free speech ("it seems alarming that someone can receive such a substantial sentence for criticising an idea"). They might ask themselves whether they would take this view if Conway had displayed posters with the slogan "Jews are the most hateful of them all" accompanied by pictures of mutilated bodies.
It's also worth noting that Conway was not prosecuted for incitement to religious hatred. The reason presumably was that the Crown Prosecution Service concluded they would be unlikely to secure a conviction. If a case like this cannot be successfully prosecuted under the religious hatred law, then the law in its present form is clearly useless and is in urgent need of amendment.