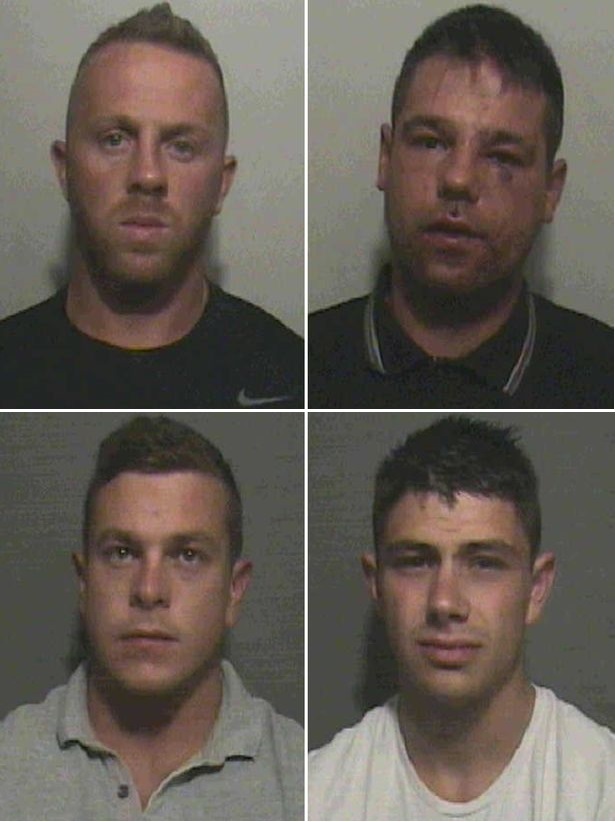 Clockwise from top left: Andrew Warner, Travis Crabtree, Thomas Ashton and Steven White
Four men were jailed for throwing a pig's head into a mosque just two days after the murder of soldier Lee Rigby.
The friends dumped a carrier bag containing the severed pork head in the car park of Blackpool Central Mosque in Lancashire, in front of shocked women and children.
Preston Crown Court was told the pals had organised the crime as a prank, knowing it would be seen as an insult in a Muslim place of worship.
Thomas Ashton, 21, Andrew Warner, 31, Travis Crabtree, 25, and Steven White, 28, all from Blackpool or Lytham-St-Annes, were locked up today for a total of just over three years.
They admitted religiously aggravated intentional harassment, alarm or distress in May, last year, in the aftermath of the bloody murder of Fusilier Mr Rigby in Woolwich, London.
An imam, a leader of the mosque, had pleaded for clemency for the men, asking for them not to be jailed, but Judge Graham Knowles QC said only jail was appropriate.
Clare Thomas, prosecuting, said a volunteer discovered the pig's head in a carrier bag outside the mosque, after receiving a Facebook message that an unpleasant package had been sent there.
Miss Thomas said: "Sticking of the bag was a pig's ear and he realised it was attached to a pig's head. He described himself as being totally shocked.
"It sent a shiver down his spine. Pigs and items relating to them are forbidden for Muslims to touch or have contact with.
"It's presence at a place of worship was highly insulting. Parents and children had started to arrive at the mosque. Some of them saw the head and felt offended and angry."
Investigating police found taunting messages on White's Facebook, which read: "They will be fuming."
Ashton was given ten months prison, Warner seven months, Crabtree 14 months and White was given eight months.
Judge Knowles said: "People are and must be free to worship as they please and without this kind of foul attack on them and that which they hold sacred. Public order must be preserved. What you four did must be denounced".
Barrister for the four men denied their clients were racists, saying it was 'a prank that went horribly wrong,' one lawyer adding they had been 'swept up in the moment.'
Daily Mirror, 17 November 2014
Update:  See also "Mosque attackers jailed", Blackpool Gazette, 18 November 2014