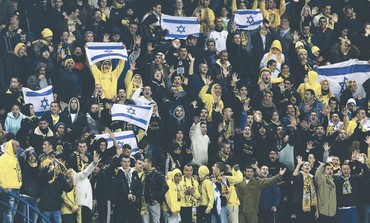 Police arrested four people late on Tuesday night suspected of torching the offices of Beitar Jerusalem last Friday amid furor over the team's decision to sign two Muslim players from Chechnya. The fire early last Friday morning caused extensive damage to the offices and destroyed team memorabilia.
It was the most violent event in more than two weeks of incidents between fanatic Beitar supporters angry at Beitar management for signing two Muslim players. Police arrested more than 25 people for throwing rocks at players' cards, harassing and attacking team security guards, and protesting outside of practices.
Jerusalem police spokesman Shmuel Ben Ruby said the four men arrested Tuesday night identified themselves as members of La Familia, a hard-core group of Beitar fans known for chanting "death to Arabs!" at matches. The men are from the center of the country.
The men are currently undergoing questioning in Jerusalem. Ben Ruby said he expects the police to make additional arrests in connection with the arson.
On Wednesday, Beitar midfielder Ofir Kriaf was suspended by the club until Monday after showing support for the La Familia fan club on his Facebook page. Kriaf will miss Sunday's match at Hapoel Haifa.
The Israel Football Association's disciplinary court also turned down Beitar's appeal on Wednesday against the closure of the East stand at Teddy Stadium for five matches.
The IFA court handed Beitar the punishment after fans raised a banner reading "Beitar Pure Forever" and sang anti-Arab chants during the 1-0 defeat to Bnei Yehuda on January 26.