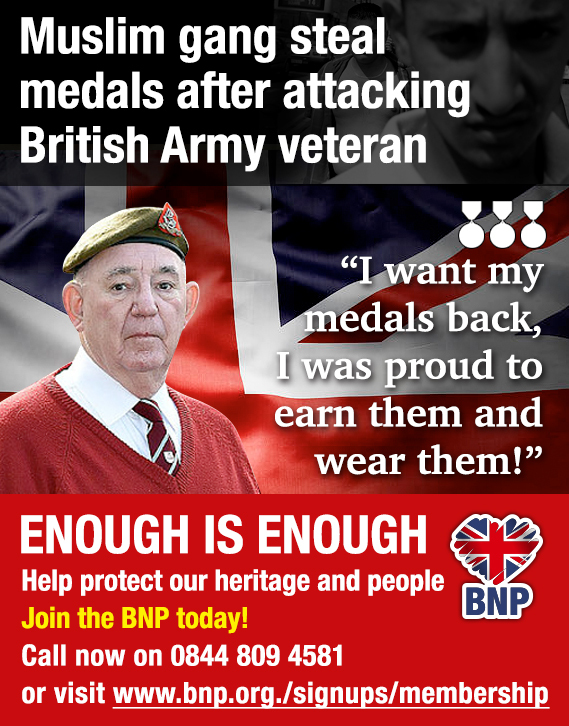 An old soldier robbed by a gang of youths as he made his way to a Remembrance service last night told of his disgust and anger after the far-right BNP 'hijacked' his ordeal for a recruitment poster.
Former infantryman George Gill, 69, lost his medals and had his beret and poppy stripped off when he was attacked by the thugs, described by police as being of Asian appearance, in Lund Park, Keighley, last Sunday.
Now, unbeknown to him, the BNP is using a photograph of him on poster that is headlined 'Muslim gang steal medals after attacking British Army veteran' and states 'Enough Is Enough'. A quote even appears next to Mr Gill's picture, stating: "I want my medals back, I was proud to earn them and wear them!"
Mr Gill said he knew nothing of the poster's existence until he was contacted by the Telegraph & Argus yesterday. "I think it is disgusting and ridiculous," he said. "I knew nothing about it all. It is shameful and it has made me angry. I am shocked."
Mr Gill, whose medals were awarded for service in Ulster and Cyprus during his 18-year infantry career with the Duke of Wellington's Regiment, added: "I will not discuss my political views, but I have had no contact whatsoever with any political party. They are wrong to do it. If they are trying to stir up trouble, it is wrong. I don't want anything to do with it. It causes so much friction."
Councillor Khadim Hussain, a former Lord Mayor of Bradford, whose home was visited by Britain First activists in May, condemned both the attack on Mr Gill and the BNP's exploitation of it as "deplorable".
"The BNP and other extreme organisations try to hijack these incidents all the time," said Cllr Hussain (Lab, Keighley Central). "Understandably, Mr Gill has every right to be upset and outraged. He ought to be complaining about it and asking why they have used his image without his permission."
He added: "I deplore that they are using this. Quite rightly he is not happy about it. They are trying to cash in on their extreme views. I am glad that he and the community at large have rejected the BNP. We will not allow the BNP or EDL to hijack incidents like these."
Jeffrey Long, a member of the Bradford Central branch of the Royal British Legion, said when told of the BNP's actions:
"The first word that comes to mind is diabolical. It is diabolical that they should hijack this without his permission to use on a recruitment poster for them and stir up racism, which is what it is doing. It brands all Muslims, saying they are all doing this – which is wrong."
Mohammed Rafiq Sehgal, president of Bradford Council for Mosques, said: "The attack on a veteran attending the remembrance is a disgraceful act of cowardliness by the unthinking morons. We find the exploitation of the misfortunes of the veteran by the BNP for its racist agenda equally despicable and insensitive."
BNP spokesman Simon Darby said the party was simply highlighting Mr Gill's situation and may well have spoken to him. "We stand by it. Someone needs to campaign for him and stand by him," he said. "If we didn't campaign for him it would look appalling, but somebody's got to do something." He said several organisations had used Mr Gill's picture.
* Two Keighley boys, aged 15 and 16, have been bailed after being arrested by police investigating the attack on Mr Gill.