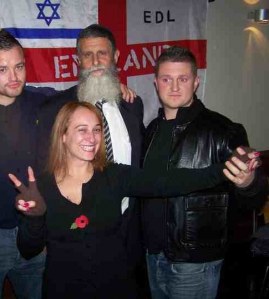 The leader of an extreme right-wing Jewish group has been condemned for claiming that a proposed Muslim community centre would lead to attacks on Jews.
Roberta Moore, head of the UK branch of the Jewish Defence League, wrote to Camden Council complaining about the proposed conversion of a shop in Cricklewood, north London.
Ms Moore, ex-head of the English Defence League's Jewish Division, said turning the former shop into a Muslim community centre could lead to Jews being threatened and roads becoming "constantly crowded by Muslims preaching on the streets".
The Cricklewood Broadway building was formerly a grocery store but has operated as a library for a number of years. The North West Islamic Cultural Centre has applied for planning permission to use the back of the building for communal gatherings.
Ms Moore, who lives in the area, claimed that since a mosque was built nearby there had been a rise in "aggressive attacks on Jews in Golders Green", with mosque-goers "terrorising" Jewish residents. Crime statistics do not support her claims.