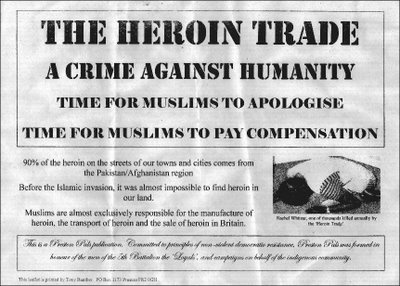 A former British National Party election candidate was charged yesterday in connection with the distribution of leaflets which alleged Muslims were responsible for the heroin trade. Anthony Bamber, 53, of Greenbank Street, Preston, Lancashire, is accused of incitement to commit religious hatred, police said.
The leaflet was distributed in Burnley and reportedly circulated in other parts of Lancashire, Cumbria and Yorkshire. It urged people to "heap condemnation" on Muslims and said it was time to "apologise" over its claims they were responsible for 95 per cent of the world's heroin trade.
Yorkshire Post, 10 August 2009
Update:  As ENGAGE points out: "As matters currently stand, our UK laws on incitement to religious hatred are far weaker than the ones on incitement to racial hatred and it is precisely this loophole that members of the far-right amongst others have been exploiting so ruthlessly in recent years to target UK Muslims."
Indeed, in order to secure a conviction under the Racial and Religious Hatred Act 2006, the prosecution will be required to demonstrate not only that the leaflet is "threatening", which is questionable, but also that Bamber subjectively intended the leaflet to incite hatred, which is almost impossible to prove. So don't be surprised if Bamber gets off.