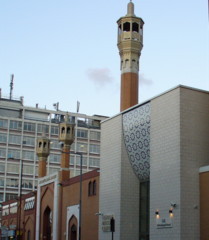 Government Minister Jim Fitzpatrick has called for segregation to be outlawed in Britain. The controversial East London Labour MP, who hit the headlines last week after walking out of a Muslim wedding for being asked to sit apart from his wife, insists segregation of men and women outside places of worship should be against the law.
Mr Fitzpatrick, the MP for Poplar and Canning Town, told the BBC that he does not oppose segregation in mosques, but believes separating men and women in halls such as the London Muslim Centre and other public buildings was "unacceptable."
Mr Fitzpatrick told the PM programme: "Forcing people apart, removing the choice to be able to sit together, for me is a very big issue. There is an equalities issue here which needs to be explored. There is nothing as I understand it in law to prevent forced segregation. The scope would be to prevent anybody who owns a public hall, place of celebration or community gathering to actually say that one section of the community is barred from entering."
The Government Minister for farming was highlighting the issue because he detects a growing intolerance among a minority of his East End constituents who organise around the Islamic Forum of Europe.
East London Advertiser, 3 September 2009
See Sunny Hundal's comments at Pickled Politics, 3 September 2009