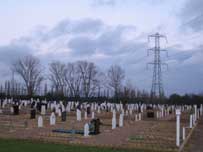 Waltham Forest's Muslim burial ground will see two new buildings and a new carpark constructed despite fierce public opposition.
Dozens of angry residents packed the public gallery at last night's (Tuesday) planning meeting. They voiced concerns over the disturbance that could be caused by the new buildings, which include a hall for funeral services, as well as a new 82-space carpark.
Concerns were also raised over the number of amendments made to the application since 2007 as well as the possible risk of flooding on the site. But the Environment Agency has said it is satisfied the flood risk has been resolved and officers insisted changes to the application were minor.
Run by the Waltham Forest Muslim Burial Trust, permission had already been given to extend the burial ground but was halted by a Sport England project. Cllr Midge Broadley said: "That permission still remains. To me, it's quite obvious it will need service facilities. Most cemeteries have a carpark, so the principle of a carpark has got to be accepted."
Officers also deemed the new use of the site to be in keeping with its status as green belt land. Permission has now been granted on the condition the new buildings are sustainable and energy efficient.