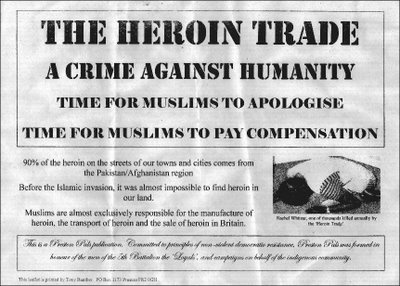 North-West of England, primarily around Lancashire, are being treated to a BNP-produced leaflet that seems to have been penned by the ever-despicable Tony Bamber, the former fundholder for the now defunct Lancaster and Preston branch of the far-right party and a former candidate for the Tulketh ward in Preston in 2006. The leaflet campaign appears to be part of an attempt to get the branch up and running again in time for the Euro-elections.
Bamber, in keeping with the BNP's long-established tradition of jumping on any available bandwagon, formed a fictitious group a couple of years back, which he called the "Preston Pals", a reference to the company of volunteers from Preston who were eventually formed into "D" company, 7th Battalion, the Loyal North Lancashire Regiment, to fight in World War I.
The Royal British Legion (RBL) has roundly condemned this misappropriation of the name by the BNP, with its spokesman Patrick Leavey saying; "[The Preston Pals] sacrifice should not be besmirched by people engaged in political campaigning for such an ugly cause. We condemn this leaflet, its contents, and those who are disseminating it".
This is not the only reason for condemning this filth. The leaflet is headed "the heroin trade – a crime against humanity" and goes on at great length about how Muslims are responsible for the "heroin trade" in Britain, stating: "Before the Islamic invasion, it was almost impossible to find heroin in our land."
The art of the sweeping statement is not lost on Tony Bamber. His current leaflet states: "For all intents and purposes, Muslims are exclusively responsible for the heroin trade."
In its desperation to have a go at Muslims, the BNP – as it always has – ignores the facts or only produces half-facts to support its racism, its hatred of Islam, its lies and its fraudulent claims to being a real political party. It is not. It is nothing more than a rabid band of racist buffoons led by a con-man. The likes of Tony Bamber fit right in.
Our advice to anyone who receives one of these leaflets is to report it to the police as incitement to religious hatred. If we all do it, we can eventually get the vermin who deliver this rubbish off our streets.