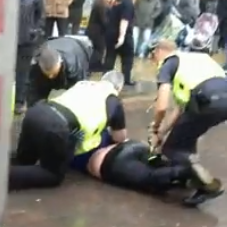 A woman who confronted an Asian man during an English Defence League demo and assaulted two police officers when she was arrested has escaped a jail term.
Karen Elizabeth Marsden, 40, joined in offensive chanting as part of the EDL protest in Dewsbury town centre last June, Kirklees magistrates heard.
The demo was a protest against alleged Muslim paedophiles and Marsden approached the Asian man with a leaflet and suddenly hit out at him. Marsden was arrested and police had to use CS spray to subdue her.
Marsden had denied threatening behaviour and assaulting two police officers but was convicted after a trial.
Marsden, of Whitwood Mere, Castleford, was warned to expect jail but magistrates imposed an 18-month community order with a supervision requirement. She was ordered to pay £260 towards costs of £620. Magistrates rejected an application for an anti-social behaviour order.
Mrs Vanessa Schofield, prosecuting, told how Marsden hit out at the Asian man and there was a confrontation. Marsden was arrested but struggled and officers had to use handcuffs, leg restraints and CS spray. When an officer checked on her in the back of a police van later she spat at him.
Mr Noel Trussler, for Marsden, said his client only joined the protest because of a previous experience in her life, which he did not explain. He said she now knew she should not protest in that way.
She went to trial because she was concerned at how she had been "manhandled" by police, said Mr Trussler. She was being treated for a "borderline personality disorder" and planned to move to Hawes in the Yorkshire Dales with her fiancee.
Huddersfield Examiner, 23 February 2013
Via ENGAGE
Marsden in fact elected to go to trial because she claimed to be entirely innocent. According to her version of events, she had been subjected to an unprovoked assault by a group of Muslims while the police stood by and did nothing, only to arrest her as soon as she resisted her attackers.
This cock-and-bull story was publicised by the Hitler admirers of the British People's Party ("No doubt we will see more of this sort of treatment of the decent people of Britain as the corrupt Government and Police Force continue their plans of islamification and destruction of our once great country") and was also promoted on the far-right forums at Stormfront and the Vanguard News Network.
You might wonder why the most extreme, neo-Nazi, white supremacist elements of the far right rallied so enthusiastically to Marsden's cause. The answer can be found here, here and here.
(Marsden's arrest would appear have taken place during a demonstration on 23 June 2012 organised by the National Front and the Infidels, not the larger EDL protest a week later. So the Examiner report is misleading.)