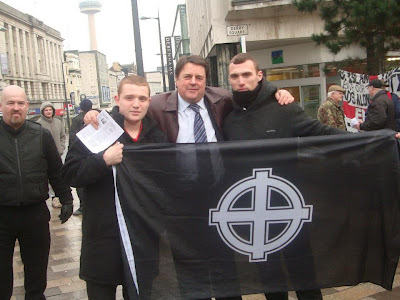 The £2m trial of the Rochdale sex grooming gang was nearly derailed twice by far-right groups, it can now be revealed.
Before any evidence had been heard, demonstrations by the BNP and EDL prompted two defence barristers to pull out. With a jury sworn in at Liverpool Crown Court and the prosecution poised to open their case, Abdul Iqbal and Iran Safi decided to leave the case amid angry scenes outside.
Solicitors, barristers and some defendants reported being threatened. The jury had to be discharged and replacement barristers brought in. The trial was delayed for two weeks while the new lawyers acquainted themselves with the case and a second jury sworn in.
And just last week, messages from the North West Infidels and BNP leader Nick Griffin on Twitter and Facebook claimed – correctly – seven of the defendants had already been convicted, even though the jury had not yet delivered any verdicts. Defence barristers immediately called for the jury to be discharged.
Judge Gerald Clifton asked the jury if they had discussed their deliberations with anyone outside court or whether anyone could have overheard them. They answered "no" to both questions. Judge Clifton said he believed them and said there were "other scenarios which could have explained the tweets".
Manchester Evening News, 9 May 2012
See also "Police investigate Nick Griffin tweet during Asian paedophile gang trial", Metro, 9 May 2012