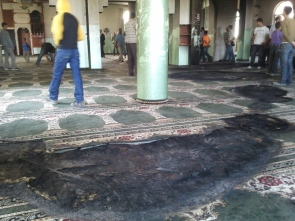 Police have launched an investigation into a West Bank mosque arson attack on Tuesday. Palestinians from the village of al-Muayar, near Ramallah reported that a carpet in the mosque was set fire in the early hour of the morning. A joint police IDF investigation was launched.
"We believe suspects set fire to a tire inside the mosque," police spokesman Micky Rosenfeld said. "No actual damage was observed on the walls," he added. A police forensics team arrived on the scene and began taking evidence.
Far-right graffiti was also found at the site, including the words "El Ain," the name of a settlement outpost which was evacuated by security forces last week, sparking a clash which resulted in several injuries among right-wing activists and police. Police suspect the arson incident could be linked to last week's outpost clearance.