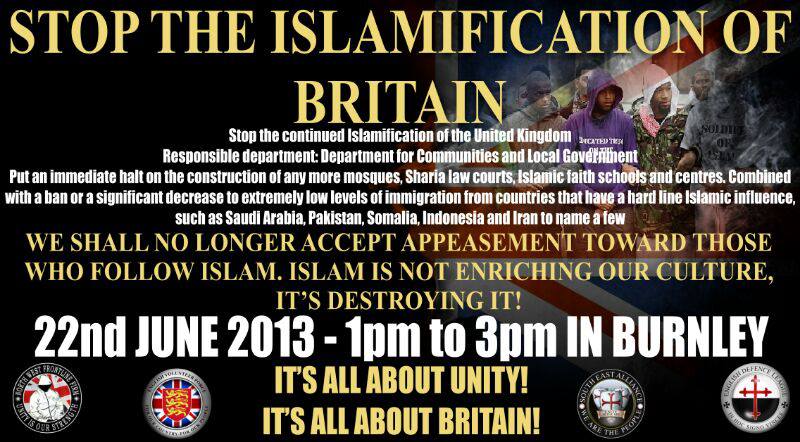 A group called the North West Frontline Firm are holding a demonstration in Burnley next Saturday to "highlight the Islamification of Great Britain and the ever growing problem of mass immigration".
One of several far-right "unity" initiatives that emerged out of the fragmentation of the English Defence League, the organisation claims to have been "set up by affiliates of various Patriotic groups throughout the North West". In a recent Facebook post they state piously: "We aren't extremist nazis like the various left wing factions would have you believe. We are simply concerned British Patriots."
Yeah right. Given that the North West Infidels, an openly neo-Nazi and white supremacist group, are centrally involved in the North West Frontline Firm, I think we're entitled to treat that assurance with just a touch of scepticism. Among the advertised speakers at Saturday's protest is one Paul Mcginty. Although he's billed as a representative of the NWFF, a glance at his Facebook page reveals him to be an active member of the NWI.
Appearing alongside Mcginty on Saturday will be Paul Pitt of the South East Alliance (former Essex organiser of the EDL), Tony Curtis of the English National Resistance (another former leading figure in the EDL), convicted football hooligan Jeff Marsh of Casuals United, and Mickey Bayliss of the South West Alliance (former EDL South West regional organiser). In the interests of gender balance, "North West Angel" of the EDL will also be on the platform. In the world of thuggish anti-Muslim street protest groups, this is what passes for a star-studded cast.
The NWFF have high hopes for the future of this alliance: "We are a coallition of various movements and so far we are all doing well working together and respecting eachothers views so long may it continue. Unity Is Our Strength." Well, we'll see. The main unifying element among the various factions represented in Burnley on Saturday is their hostility towards the Lennon-Carroll leadership of the EDL. Whether that will provide a sufficient basis for long-term co-operation is questionable.
Update:  Unite Against Fascism have organised a demonstration in Burnley Town Centre on 22nd June in opposition to the Infidels/ North West Frontline protest. They have support for the event from Lancashire Council of Mosques, North East Lancashire Trades Council, and local councillors. They are asking people to meet at 11.00am on Saturday 22nd June at the Peace Gardens, near Burnley Library, for a peaceful Unity event.