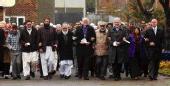 Faith leaders across Stoke-on-Trent have come together in a show of solidarity after an attempt to blow up a mosque.
Members of North Staffs Forum of Faith were among those that met at the Muslim Welfare and Community Association at Hanley's Equality House yesterday. They then walked across to the mosque in Regent Road, which was the target of an arson attack last Friday.
Arsonists connected a hose pipe to the gas supply of a nearby empty house before feeding it through a window at the Hanley mosque which is still under construction. Rubbish was then set alight on the ground floor, seemingly in an attempt to trigger an explosion.
Lloyd Cooke, chief executive of the Saltbox Christian Centre in Hanley, said: "We are deeply concerned at this recent event. We wanted to meet together as a sign of support and unity and to affirm that an attack on one faith is an attack on all. We are saying no to violence, crime and hate and no to the attack on the mosque. But we are saying yes to tolerance, peace and understanding."
The Bishop of Stafford Geoff Annas said: "We make no attempt to hide our differences. We all have our ways of approaching God. The community needs to work together to safeguard the freedom God has given us and we rejoice in that."
Before people walked over to the mosque Imam Abrar Hussain recited a chapter from the Koran. And outside the mosque they lit candles to symbolise light, hope and peace.
Rana Tufail, who helped raise money to build the mosque, said he was grateful to people for turning up. The Shelton Islamic Centre director said:
"It's important that we are all here today to express our opinions and show our disgust at what happened to the mosque. This attack shocked a lot of people. The perpetrators were trying to destroy peace, providence and harmony. They were trying to destroy this beautiful building, which now when you look inside is smoke-logged and depressing. But with the help of the whole community it will be completed and it will be used by everybody."
Peter Barber, chairman of districts for Stoke-on-Trent and Chester Methodist Church, said: "There is huge support in the community. It is important to show that with faith communities standing together we can stay strong. Attacks like this aim to destroy communities but we won't let that happen."