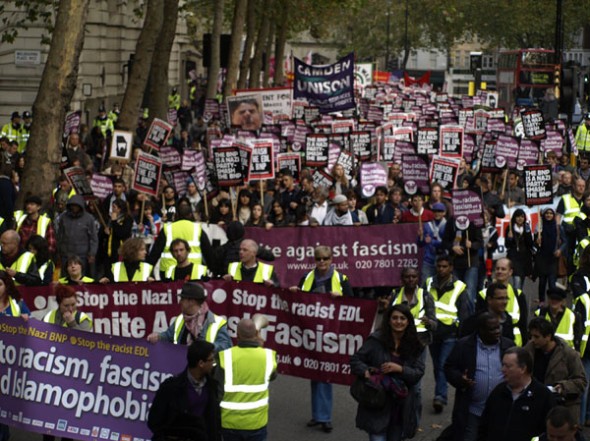 Around 5,000 black, white and Asian people marched through central London today in a lively and spirited demonstration against racism, fascism and Islamophobia.
The march, called by UAF and Love Music Hate Racism, was supported by the TUC and the Muslim Council of Britain. But it was the presence of large number of young people, school and university students that gave the demo its exuberant character.
Marchers showed their opposition to the fascist British National Party and the racist thugs of the English Defence League – which particularly targets Muslims.
The demonstrators chanted: "Whose streets? Our streets" and "EDL, go to hell – take your Nazi mates as well" as the march wound out of the West End and down Whitehall to Westminster.
Along with the chanting, many danced along behind carnival floats, with music from artists supporting LMHR.
At Westminster, the protesters heard from a range of speakers, including George Galloway, Hugh Lanning, deputy general secretary of the PCS civil service union and poet Zita Holbourne of Black Activists Rising Against Cuts.
UAF officer and LMHR national coordinator Martin Smith told the crowd that it was important for antiracists and antifascists to mobilise against the EDL, criticising those who argued that we should "stay away or hide behind doors". He said:
If you give an inch to fascists they will come for more – we must not give an inch. We have to stand together, united.
He urged everyone to join a national mobilisation against the EDL in Luton in February.
There was more music, featuring artists including radical rapper Lowkey and up-and-coming young band Flow Dem, who caught the mood with their song Racial Ting: "It's not a racial ting, it's a white black mixed race Asian ting!"
Speaking after the demo, UAF joint secretary Weyman Bennett said:
Thousands of people turned out on a very lively demo to show they reject racism, fascism and Islamophobia. Now we need to build on that success, building bigger local groups and setting up new ones around the country.

We will also be mobilising for a national counter-demonstration against the EDL in Luton on 5 February 2011.