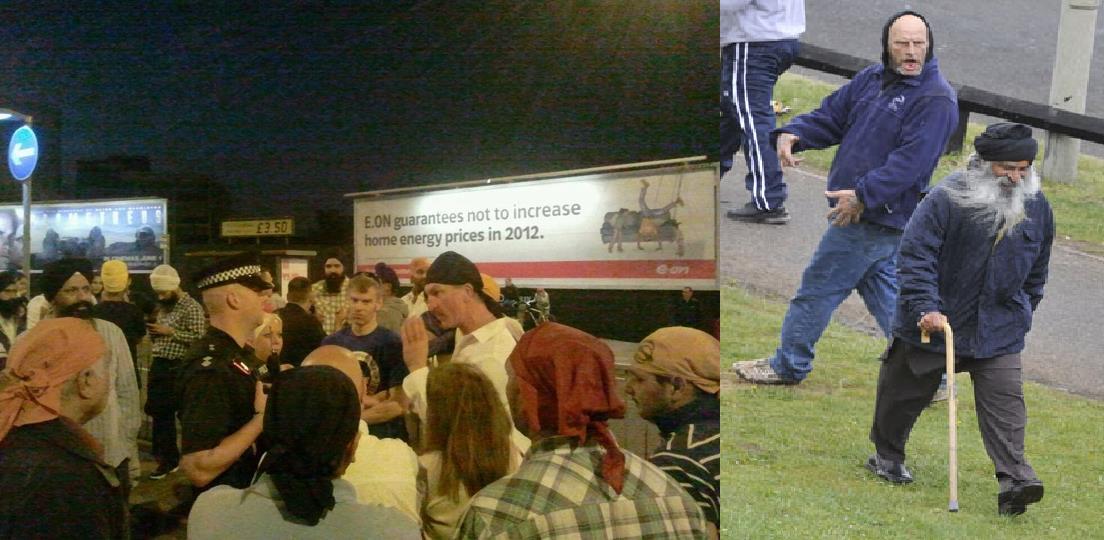 EDL leader Kevin Carroll pretends to be an ally of the Sikh community at last night's protest – and (right) an EDL demonstrator shows the membership's real attitude to Sikhs
A Sikh elder today shared his concern at attempts by the English Defence League to hijack a protest by the Luton Sikh community. The protest outside Luton Police Station last night was in response feelings of a lack of action by the police force.
Catrin Nye, a BBC journalist reported:
The Sikh protesters shut down the dual carriageway through the centre of Luton, they sat down on the road and chanted surrounded by a large police presence. Their reason they said was the police haven't dealt properly with the alleged sexual assault on a young Sikh girl in the town.

In the early hours of the morning the remaining protesters gathered at Guru Nanak Gurdwara just minutes from the protest site. Members of the English Defence League joined the protest. They claimed they were going to turn it into a national event but that didn't happen.
She went on to confirm that the EDL had not been invited as had initially been claimed.
My name is Jaswinder Singh Nagra, I'm one of the community elders. I personally did not welcome their (English Defence League) presence. Obviously they wanted to make hay of this because it's their town. Some of the young boys were very angry and welcomed them but I'm not happy. Our values do not match.
Responding to whether support for the EDL by young vulnerable Sikhs concerned him, Jaswinder Nagra replied:
Yes it does because they're very exploitive and we don't want our youth following their propaganda.
See also EDL News, 30 May 2012