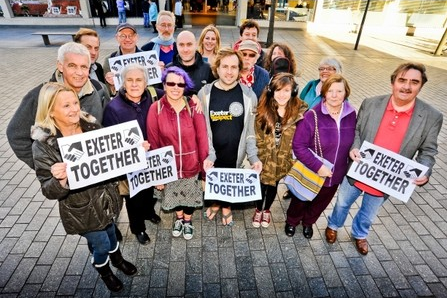 A group has been set up to counter the planned national protest being organised by the English Defence League in Exeter.
The EDL have announced their intention to stage a demo in the city on Saturday, November 16 and – despite the resignation of leaders Tommy Robinson and Kev Carroll – said it was still going ahead as planned.
City councillors have now joined with several local organisations in supporting a statement that condemns the proposed demonstration.
Exeter Together is an umbrella group that was formed two weeks ago after a meeting of 30 people. It is launching a statement that has already been backed by both Labour and Liberal Democrat councillors, as well as by many local faith groups, trade unionists and community organisations.
The group said they are also planning a peaceful family friendly "celebration of diversity" on November, 16, at the same time as the EDL are meeting, with the intention of showing that the "vast majority of Exeter rejects the EDL's views."
This celebration, inspired by the annual Respect festival, and echoing a similar event in March 2011 when the EDL marched in Exeter, will be situated away from where the EDL are meeting. The organisers said they are interested in showing the alternatives, not in provoking confrontation.
Hannah Packham, spokesperson for Exeter Together, said: "We are coming together to celebrate Exeter's diversity, part of what makes this city great. We reject the prejudice, bigotry and hatred of those who seek to divide us and are united in defending tolerance in Exeter, the South West and Britain.
"The support for the statement has been amazing with so many individuals and organisations supporting it, even before it is officially launched. As this is a national EDL demo there will be EDL members who do not know or care about Exeter coming to our city. We want to show them that the residents of Exeter do not share their views. If Exeter residents or community organisations want to sign the statement they should go to the website www.exetertogether.wordpress.com."
Supporters of the statement so far include both Exeter Labour Party and the leader of the Lib Dems Cllr Adrian Fullam.
Pete Edwards, Labour Leader of Exeter City Council said: "We should be celebrating our diversity in Exeter, which adds to the success of our city, and not look to out-dated prejudices. I will be proud to attend the Exeter Together celebration of our city's diversity on 16th November".
National figures who have shown their support include union leaders Bob Crow, who is due to speak in Exeter on 22 October, Mark Serwotka of the PCS union and Christine Blower of the National Union of Teachers.
Exeter EDL have been under fire following the resignation of Tommy Robinson, when he said that the organisation was riddled with racists and fascists.
Ms Packham added: "Exeter Together are not calling for the EDL march to be banned; we believe in free speech and the right to peaceful protest. We do want to show however, that Exeter is a city where racist views and violence that the EDL bring are not welcome. Exeter Together believe the diversity of our communities in Exeter adds inestimably to the character of the city that we all love so much."