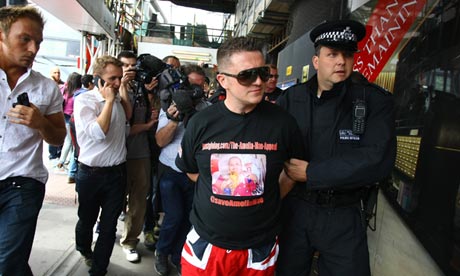 Two English Defence League leaders have been arrested as they attempted to visit the spot where Drummer Lee Rigby was murdered last month.
Tommy Robinson and Kevin Carroll were detained by police on Saturday on suspicion of obstructing officers in east London. The Metropolitan police said on Friday that anyone trying to march to Woolwich would be arrested and imposed a route for the walk between Hyde Park Corner and Old Palace Yard, opposite the House of Lords.
A Scotland Yard spokesman said on Saturday: "At approximately 11.25am today, two men were arrested outside Aldgate East station for obstructing police. They have been taken to a south London police station." In a statement posted on the EDL's Twitter feed, the group said: "Tommy Robinson & Kev Caroll arrested for obstructing the police and carted off."
The pair claimed they were attempting a charity walk to Woolwich Barracks via the East London Mosque. Throughout the morning, they posted pictures on Twitter at London landmarks such as Buckingham Palace, the Mall and the 7 July memorial in Hyde Park.
Scotland Yard on Friday said it was imposing conditions on the march because of fears that it would "result in serious public disorder and serious disruption to the life of the community", warning that a breach would be a criminal offence. The police force also said attempts had been made to liaise with the EDL to facilitate the march and gathering and offered them two alternative routes that avoided Tower Hamlets, home to the East London Mosque.
Alan Green, chairman of the Tower Hamlets Inter Faith Forum, said an open day was taking place at the mosque on Saturday. Green said: "We are aware that there are those who are fearful of Islam and who seek to undermine the harmony that exists between the faith communities in this borough. Our unity here today makes it very clear that they will not succeed."