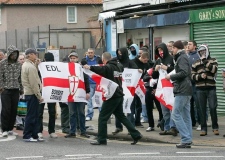 Far-right groups are forging ahead with a ­campaign of street protests in an attempt to stop a mosque and community ­centre opening in Dagenham.
The English Nationalist Alliance (ENA) has pledged to stage demonstrations every three weeks to prevent the opening of the facility in Green Lane, given the go-ahead despite 1,300 objections last month. The ENA announced its next protest will take place with the English Defence League on March 5, as it emerged the only way to overturn the planning ­decision would be to call for a judicial review.
Organisations would have until the end of next week to apply for the High Court review, given the strict, six-week legal deadline. A review could also incur considerable legal costs and protesters would have to demonstrate the planning decision made by councillors on January 17 had either been unlawful, irrational or biased.
ENA spokesman Bill Baker said: "Many of us are Dagenham residents, or have roots in Dagenham, and feel that this whole situation is going to create disharmony in the community if this centre is allowed to continue. On March 5 the ENA has again ­organised a demonstration in Green Lane and this is being backed by the EDL. We will keep returning to Green Lane every three weeks."
Barking & Dagenham Post, 23 February 2011
Details of the previous ENA/EDL demo in Dagenham here.
More on Bill Baker here.
Update:  The EDL leadership has suddenly decided to break their links with Baker and the ENA. Consequently, the EDL London Region has announced that they will not be joining the 5 March protest (though they "wish the ena/bnp all the best with what they want to do") and will hold their own demonstration a week later, with EDL leaders Stephen Lennon and Kevin Carroll as featured speakers.