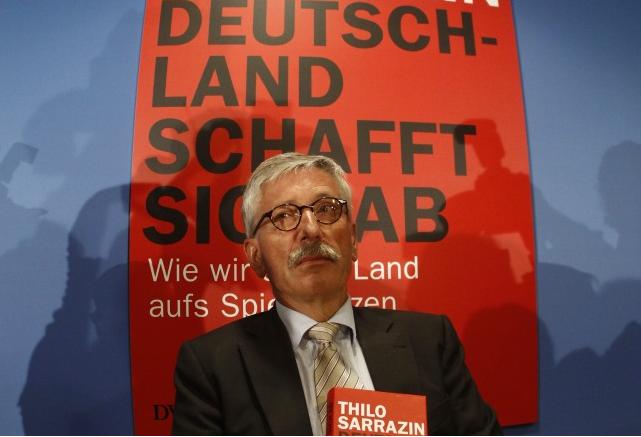 Nearly a fifth of Germans would vote for a political protest party headed by Thilo Sarrazin, a poll revealed on Sunday, as mainstream politicians argue about how best to react to his statements on Muslims, immigration and Jews.
The survey, conducted by Emnid pollsters for the Bild am Sonntag newspaper, showed that 18 percent of Germans would vote for a political party headed by the Bundesbank board member.
He has created a furore in Germany with assertions about Muslim immigrants to Germany failing to integrate, and what he insists is a genetic element to intelligence – and the astounding proposal that people of a common religion are genetically related.
His theory is that genetically stupid immigrants are making Germany increasingly stupid as they are multiplying faster than Germans – and refusing to integrate into German society.
These kind of ideas seem to be welcomed by many conservative voters, with 17 percent of Christian Democrat Union (CDU) or Christian Social Union(CSU) voters telling pollsters they would vote for him if he were to establish a political party.
He appears to be even more popular among leftwing Die Linke supporters, with 29 percent saying they would vote for him.
Over at Spiegel Charles Hawley presents an interesting analysis of why, given that there is a significant level of public support for Sarrazin's views, "a political movement espousing his brand of right-wing populism is virtually non-existent in Germany". One explanation Hawley suggests is:
"Germany's mainstream political parties, particularly Merkel's Christian Democrats (CDU), have long been extremely skeptical of immigration. For decades, the phrase 'Germany is not an immigrant country' seemed to be a kind of unofficial party slogan and the CDU is adamantly opposed to Turkish membership in the European Union. The result has been that many of those who might otherwise have been tempted by a right-wing populist party have found a home in the CDU."
In which connection it is worth noting the following DPA report: "Chancellor Angela Merkel has weighed in on Germany's fierce immigration debate, acknowledging in an interview released Saturday that fervently religious Muslim youths tended to be more violent than others. 'This is a big problem and we can talk about it openly, without arousing suspicions of xenophobia', Merkel said in the interview with Bild am Sonntag newspaper."