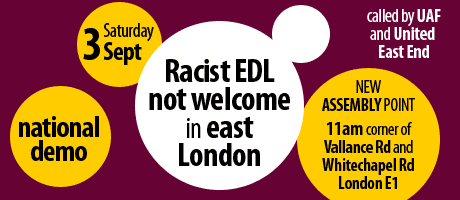 It's not going well for the English Defence League's demonstration in Tower Hamlets tomorrow. They had planned to meet in Hainault and then travel by tube to Liverpool Street station, from which the police would escort them to the place where their static protest is to be held. But members of the rail union the RMT put a block on that, saying that they would stop work on health and safety grounds if the EDL were allowed to gather at Liverpool Street.
Denied the use of that assembly point, the EDL announced last night that they would be gathering at two pubs in Euston – O'Neills and the Euston Flyer. However, after being informed of the situation by Unite Against Fascism management declined to host the EDL and said they would close the pubs tomorrow if the EDL turned up. So this morning there was another change of plan. The EDL now intends to meet in three pubs in Kings Cross – the Flying Scotsman and Dun A Ri (now operating under the name of Millers) in Caledonian Road and the Driver in Wharfdale Road.
It remains to be seen whether they are allowed to meet there. Unite Against Fascism has circulated the phone numbers of the pubs – Flying Scotsman 020 7837 8271, Dun A Ri (Millers) 020 7837 4863, Driver 0207 278 8827 – and are asking supporters to POLITELY urge these pubs not to host the EDL.
Update:  UAF reports that the three Islington pubs will refuse to host the EDL too.