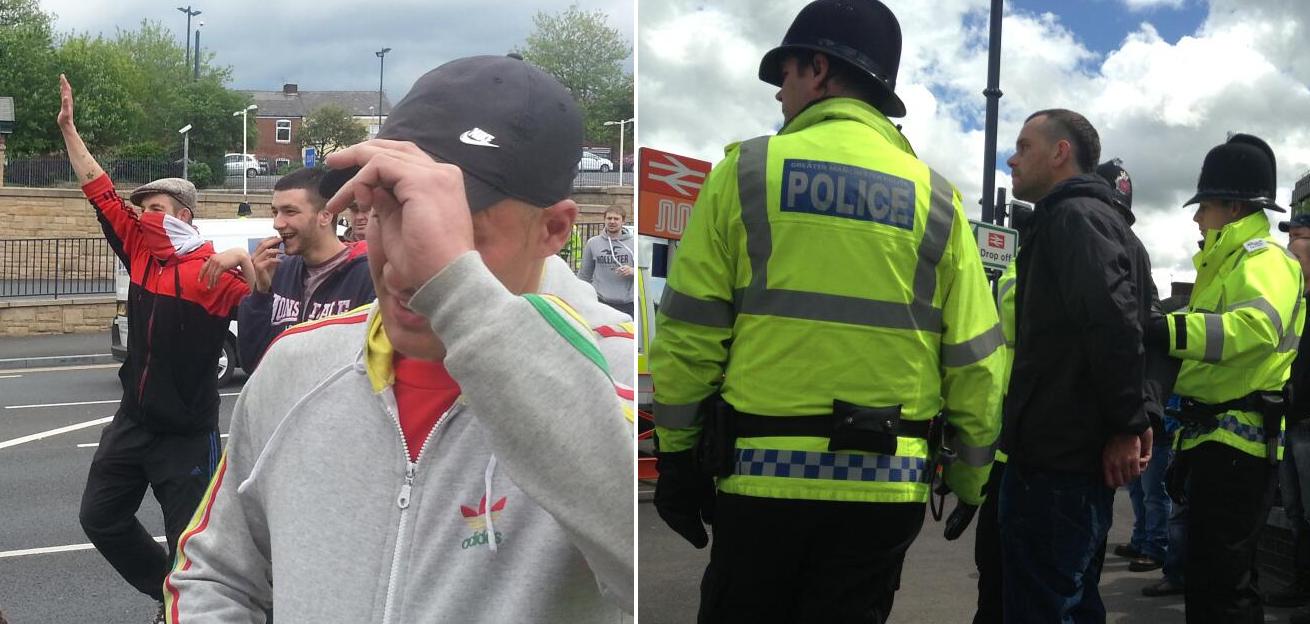 The English Defence League in Ashton-Under-Lyne (Photos: Hope Not Hate)
Happily, today's English Defence League demonstration in Ashton-Under-Lyne appears to have been a bit of a disaster all round. Turnout was only around 200-250, it featured the usual embarrassing Nazi salutes and arrests, and it has resulted in renewed conflict between the EDL leadership and the various fascist and neo-Nazi fragments with whom they had lately been trying to mend fences.
The issue over which the protest was called was an altercation at an Ashton-Under-Lyne bus stop a week ago between two groups of youths, one of which was of Asian heritage while the other was white. Mobile phone footage of this minor incident went viral and was seized on by the EDL and other sections of the far right as an example of virulent anti-white racism. Tweeting a link to the video, EDL leader Stephen Lennon described it as: "Muslims launch violent attack on innocent English boys and girls in Ashton."
The EDL immediately announced a march to protest against this latest Islamic atrocity. "Wherever the barbaric 7th century cult strikes we will be there," they declared. "TOMORROW Ashton-Under-Lyne NO SURRENDER." The Ashton-Under-Lyne division of this self-styled non-racist organisation urged its supporters: "come on! Lets show em we ain't Asian under Lyne, we're Ashton under Lyne, lets have the biggest and best demo yet!"
The slight flaw in this characteristically hysterical response by the EDL was that there was no evidence that the bus stop altercation had any racial element to it at all. In a Twitter exchange the young woman who had filmed the incident stated that it was neither race-related nor even an actual attack, and complained that "people just jumped to conclusions".
This may possibly help to explain why on the eve of the demo Lennon suddenly announced that he needed to spend more time with his family and wouldn't be able to make it to Ashton. The police even issued a statement saying that the EDL had informed them that the march was cancelled, though Lennon later denied this and claimed the police were just trying to put people off attending. (Which raises the difficult question as to who you would be more inclined to believe – the Greater Manchester Police or a lying little toerag.)
At any rate, there seems to have been little or no support from the EDL nationally for the demo. Not only did Lennon and co-leader Kevin Carroll not turn up to address the protest, but the EDL failed to provide any speakers at all. Other sections of the far right were furious. The North West Alliance dissociated themselves from what they described as a "farce", while the North West Infidels and Casuals United issued a joint statement denouncing the day's events as "nothing short of a shambolic mess". The NWI and Casuals announced that they would organising their own demonstration in Ashton-Under-Lyne early next month, presumably minus Lennon and the EDL leadership.
So, as I say, all in all a pretty good result.