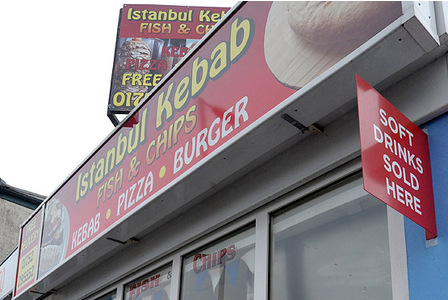 A terrified Kurdish family were forced to barricade themselves inside a kebab shop as a mob allegedly shouted racist abuse outside.
One person threw a glass into the Istanbul Kebab shop in Exeter Street as violence spread from a nearby pub yesterday afternoon. The family said the glass, which smashed on a counter, could have hit a baby in a car seat in the shop.
Four or five members of the family say they had to push against their shop door to stop a similar number of people, including women, forcing their way in. One woman family member, who did not want to be identified, said: "I was extremely frightened. They grabbed my mother's arm and tried to pull her out of the door."
The family said the group, thought to have been in the nearby Wild Coyote pub, were shouting "EDL, EDL" and vile racist abuse. The far-right English Defence League (EDL) set off from the same pub for a march through the city centre three weeks ago.
Police were last night questioning four men from Plymouth aged 27, 28, 33 and 43, arrested at the scene – two on suspicion of affray, one for threatening behaviour and one for suspected criminal damage. About 20 officers, with dogs and some equipped with Tasers, responded to calls from passing motorists. The family said that they had been subjected to racist abuse for most of the afternoon.
The woman said that the incident came to a head when a group of four or five people came to the entrance of the shop and began chanting. She added that someone threw a glass which smashed on the counter, sending fragments over nearby food. The woman estimated that food worth about £1,000 would have to be thrown away. The takeaway was forced to close.
Update: The EDL leadership has issued a statement announcing that the South West deputy regional organiser, one Hayley, Princess Angel (aka Hayley Wells), has been removed from that post "following recent actions taken by the Plymouth division, which are not condoned by Leadership nor were they approved".