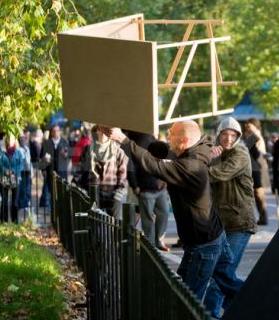 On Tuesday the EDL's Yorkshire division announced that an "EDL candidate" would be contesting the Rotherham parliamentary by-election. "Vote for him it's the way to stop grooming gangs", they urged.
Some on the extreme right expressed surprise that the candidate (at that point still unnamed) wouldn't be standing under the banner of the British Freedom party, as EDL co-leader Kevin Carroll is doing in the Bedfordshire police commissioner election. According to one contributor to a British Democracy Forum discussion thread, the candidate had originally wanted to stand for the BFP but it had been "mutually agreed" that it would be "best if he stood as an independent due to a colourful past".
The meaning of this cryptic remark became clear yesterday when the list of candidates was published. The EDL candidate (who can't of course stand in the name of the EDL as it is not a registered political party) turns out to be one Clint Bristow.
As Hope Not Hate points out, Bristow (who also goes under the name of Brian) was jailed in October last year having been convicted of threatening behaviour after attacking an Islamic literature stall at London's Hyde Park. The assault followed an EDL demonstration outside the Israeli embassy at which Rabbi Nachum Shifren was a featured speaker. Shifren had whipped the crowd up into a frenzy of Islamophobic hatred, stating that Muslims "eat each other alive, like the dogs that they are", adding "we will not let them take over our countries. We will never surrender to the sword of Islam".
As part of his sentence Bristow was also given a five-year CRASBO (criminal anti-social behaviour order) which prohibits him from attending any EDL march, demonstration or similar event in England and Wales without having notified a specified email account of Westminster police at least seven days before the event. You might think this would put Bristow in a difficult position when it comes to campaigning in the by-election, given that the EDL has stated clearly that he is standing on their behalf, as indeed has Bristow himself, so even a leafleting session would presumably qualify as an EDL event.