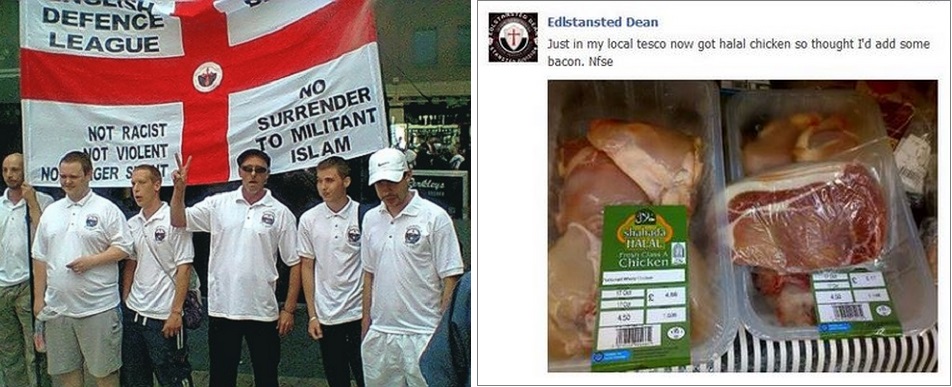 Dean Kenney (centre of photo) with fellow EDL thugs and (right) boasting about contaminating halal chicken with bacon
A right-wing thug who boasted of contaminating supermarket Halal chicken with bacon has admitted in court to committing violent disorder at a 2,000-strong English Defence League rally. Dean Kenney, 41, from Bannister Green Villas, Felsted, pleaded guilty at Birmingham Crown Court to taking part in a demonstration last July which saw EDL members, 300 anti-fascists and police clash in the town centre.
They marched to Centenary Square where then EDL leader Tommy Robinson delivered a speech outside the Symphony Hall. Then the violence started between EDL supporters and police wearing full riot gear. A portable toilet was tipped over spilling waste over the street and missiles were thrown, including bottles and cobblestones. It was estimated around £6,000 of damage was caused to a sign at the entrance to the Hyatt Hotel as demonstrators again clashed with police.
In an appeal to BBC's Crimewatch, Detective Chief Inspector Simon Wallis said: "In one incident alone £150,000 worth of damage was caused to an office block in the city centre and violent protesters used items from the nearby construction site of the new Birmingham Library as missiles or weapons to cause damage." In total 47 people were charged by West Midlands Police with offences relating to the protests, with 20 arrested following the Crimewatch appeal in January.
Kenney pleaded guilty to a charge of violent disorder, along with 15 other co-defendants, at a hearing in Birmingham Crown Court on May 21. Each faced a charge of violent disorder from the July 20 demonstration, in which it was alleged they had threatened unlawful violence and that they acted in a group to make others fear for their safety. All 16 spoke only to confirm their names and to enter their guilty pleas, one of which was Kenney who heads up the Stansted EDL division.
He has previously boasted on Facebook posts that he contaminated Halal chicken with bacon at his local Tesco.
Kenney will now have to appear at Birmingham Crown Court to be sentenced with his co-defendants.
Braintree Chronicle, 6 June 2014
See also "EDL Divisional Leader contaminates food in Tesco's", EDL News, 14 October 2013