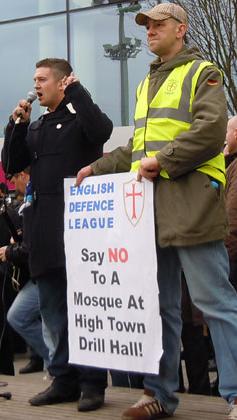 A Euro MP says a bid by the English Defence League to hijack an anti-racism meeting in Luton today (Thursday May 26) will not derail the event. Richard Howitt will be joined by other members of the European Parliament to discuss racism and extremism, as part of his campaigning against far right groups across Europe.
But the EDL says it is angry at the politician's criticism of their organisation. EDL leader Tommy Robinson says he plans to try to enter a meeting planned at Luton Town Hall to put questions to Mr Howitt.
He said: "I want to get in and talk to him. Are they going to talk about militant Islam? They need to wake up and not be afraid to talk about the real problem. The EDL hasn't got a stall outside Don Miller's in the town centre every week. We're not the ones they need to stop. It's just a political stunt by Richard Howitt so he can say that he's stopped racism."
Mr Howitt says the MEPs, from five European countries, have "hands-on"experience in tackling extremism, and that the aim of the visit is to show that Luton is a "centre of excellence" for combating racism and extremism. During the visit they will speak with faith leaders, councillors, trade unionists, Unite Against Fascism, Searchlight and join with the Luton Town FC Managing Director and players.
Commenting on the possibility of an EDL protest during today's event, he said: "The demonstration against me is a typical example of the EDL shouting and screaming from the sidelines and causing upset and fear while ordinary people just want to get on with living peacefully and happily in Luton.
"My European MEP colleagues were saddened to see people from France, Germany and Denmark joining the ranks of the EDL march in Luton earlier this year. The significance of the EDL spreads far beyond the UK's shores which is why we need a Europe-wide response and I think the EDL must be running scared if they feel they need to hold a protest on Thursday.
"Luton is resilient and Lutonians won't let racists and extremists dictate to them. I am confident threats and intimidation by the EDL aimed at stirring up panic, racial hatred and fear will never succeed in dividing Luton."