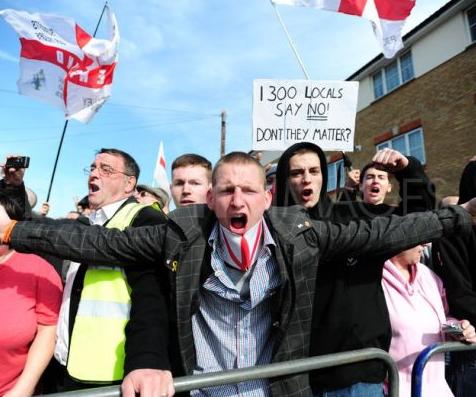 Up to 130 supporters of the anti-Muslim English Defence League (EDL) descended on Green Lane in Dagenham on Saturday. They came from as far as Southend and Kent to protest against a disused butchers being converted into a Muslim centre.
Under police supervision the EDL met at a local pub from 10am onwards before assembling at nearby Chadwell Heath train station at around 12.30 to lay flowers for one of their supporters who was killed by a train after a previous protest in the area.
The EDL then noisily marched to Green Lane only to find they were penned in behind metal barriers and not able to protest outside the butchers shop as they had intended. Behind the barriers the EDL chanted anti-Muslim slogans such as "Allah is a Paedo" and "Burn a poppy – burn a Mosque" as self-appointed EDL leader and co-founder Kevin Carrol threatened to "Bring the whole country to Dagenham" if the council did not reverse its decision on plans for the butchers shop.
In contrast, around 40 Unite Against Fascism supporters had been on Green Lane from early morning leafleting with a petition and talking to local people. One UAF campaigner told me – "Yes, there is some support for the anti-Muslim racism of the EDL, but the majority of those we have spoken to feel intimidated and disgusted by it. They don't want their (EDL) race hate here, or that of the BNP."
At the same time, from across the road, I could hear the EDL chanting "Scum, scum, scum" and pointing in the direction of the UAF campaigners. By the end of the respective protests the atmosphere was very tense with the local bus boarded by the UAF being boarded by the police and the EDL given a police escort back to Chadwell Heath train station.
See also "Accused extremists face court over affray", Newcastle Evening Chronicle, 11 March 2011