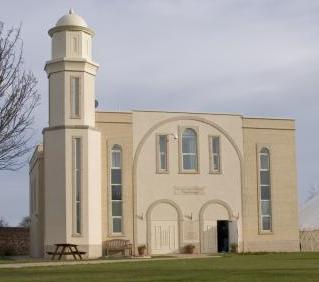 The EDL Facebook page reported earlier this afternoon that Anthony Smith and Steven Vasey, who pleaded guilty in August to conspiring to commit racially aggravated criminal damage after daubing graffiti on an Ahmadiyya mosque and two Asian-run businesses in Hartlepool, have both been jailed for 12 months.
This has now been confirmed by a BBC News report, which adds that the third EDL member in court over the mosque attack, Charlotte Davies, received a 12-week suspended sentence.
An article in the current issue of the Muslim News quotes a spokesperson for the Nasir Mosque as stating: "The men climbed over the metal fence into the mosque grounds and started to put red paint on the two doors. One portrayed a red cross, a Christian cross, and the other one was supposed to be a poppy shape."
He added that the mosque was attacked "as a result of the incident last year during the poppy appeal (Armistice Day), when it was alleged that Muslims burnt poppies. I think this was their revenge for this particular incident."
Needless to say, the EDL are expressing outrage at the sentences imposed on these two "patriots". Here are some of the comments on the EDL's Facebook page.
You'll note that EDL supporters appear unaware of the principle of an independent judiciary and blame the government for jailing Smith and Vasey. But before you laugh too loudly, bear in mind the possible consequences of their ignorance. This is a comment that appears on another thread in which EDL members denounce the government over the recent high court decision in favour of Sheikh Raed Salah:

Update:  Expose draws our attention to a "Free the Durham Two" Facebook page, which features a heartfelt message from Jill Vasey: "My brother is being punished for being patriotic…where us [sic] the justice in that?!?"
Meanwhile, over at the EDL Facebook page there's a second thread on the Hartlepool mosque sentences, contrasting them to the £50 fine imposed on poppy burner Emdadur Choudhury: