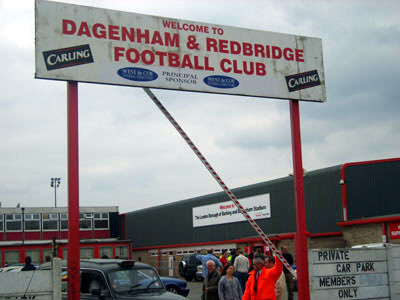 Nine people have been banned from Dagenham and Redbridge FC's ground after hurling racist abuse at a group of Bangladeshi children during a match.
The men, along with others, were heard shouting racist remarks at the group of 300 youngsters during a Daggers match against Bradford City on Saturday – the same day the club held an anti-racism day.
Following the disorder fifteen people were ejected from the Victoria Road stadium by police and one was arrested for public disorder and bailed to return to a police station at a later date.
A Daggers safety officer has since investigated the matter and as a result nine people were sent letters banning them from the grounds. A further 15 people are likely to receive similar letters once their identities and addresses are confirmed, a spokesman from the club said.
He added: "This preliminary action taken by the club is an indication of how seriously we regard this matter, and is separate from any action that may be taken by the police. The club are continuing to assist the police as they investigate whether any of those people identified should also face criminal proceedings."
Anyone with information that could assist the club or police please call the club's police liaison officer Pc Mark Osborne on 07786691558 or Crimestoppers on 0800555111.
The children were visiting the club as part of a trip organised by the Bangladeshi Football Association.
Barking & Dagenham Post, 8 March 2012
There is an eyewitness account of the events by a Dagenham & Redbridge supporter here:
In the first half especially i was very uncomfortable at the ground. Where i normally stand in the sieve, its near the away end which is unfortunately normally polluted with a bunch of 15-20ish year old nob jockeys looking to cause trouble with any away support, and the occasional racist chant…..

By the time i got to my usual spot, about 30 seconds after kick off, they were already there behind an unfortunately-positioned section of mainly asian school kids. chants of "E-E-EDL E-E-EDL" were in full flow. My dad had got there earlier than me and reported that this wasnt the first occasion the chant had been used, and earlier on some of the adults chaperoning the schoolkids had taken exception to it, and had been shouted down….

At one point, they picked on one kid because of his hair. When he had the nerve to respond, angry heads bobbed up and down, offering the kid out – he must have been 11 while these were adults.

It got a bit much for me. And far too much for the school kids, who were being ushered to a part of the stand normally taped off…. With almost comic/tragic timing, the ushering was going ahead as the announcer was listing the "Daggers against racism" policy, and that they had invited some local schools down as part of the initiative to kick racism out of football and come across as a family club, all while pretty much the only non-white contingent were being ushered into a segregated part for their own safety….

me and a couple of others told the group how much of an embarrassment they had come across as. one of them offered my mate out in response…. in the second half the numpties were gradually picked off and ejected. the one closest to us was given the option to either leave without a fuss (and pretty much get away with it), or be removed. he chose to stay and force the issue, so was escorted out with some resistance….
Update:  One of the EDL supporters, Ben Engledew, is so proud of his banning order that he has posted it online, Everything EDL reveals.