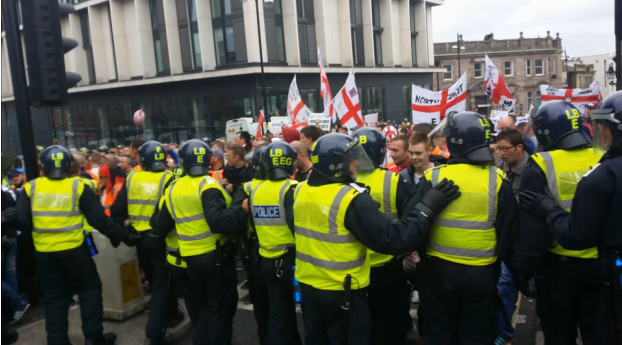 English Defence League (EDL) protesters have attacked police in Rotherham while demonstrating over the recent revelations about child sexual exploitation in the town.
Three men linked to the demonstration were arrested ahead of the march on suspicion of possessing an offensive weapon and remain in custody. A fourth man from Rotherham was also arrested on suspicion of committing a public order offence.
Police erected 10ft (3ft) barricades around the town centre, while extra officers were drafted in from around the country.
South Yorkshire police said officers had been "confronted with missiles and barriers" but said no injuries had so far been reported. Some 1,200 protesters were expected to descend on Rotherham, in what has been described as a political exploitation of the recent abuse findings.
The shock report last month said that although the majority of perpetrators were described as "Asian" by victims, some councillors were nervous about identifying the abusers' ethnic origins "for fear of being thought racist".
Weman Bennett of Unite Against Fascism said: "We want justice for the victims, but we don't want racists exploiting it." Speaking from the organisation's small counter-demonstration, Bennett said most of the violence had been between EDL members themselves.
He said: "We're standing with the social workers and families here.
"I've counted three different Nazi groups since I've been here. None of those groups, I believe, have got any interest in truly representing people or developing anything inside Rotherham. In fact, they've been rejected when they've tried to stand in elections. All these people have come to do is try to divide Rotherham.
"Obviously something has got to be done, but the EDL and the BNP are trying to devastate this town."
The EDL's Facebook page for the march said it was holding "a protest against the Pakistani Muslim grooming gangs," and labels Rotherham as the "Islamic paedophile capital of Britain."
---
According to Hope Not Hate, the EDL march featured a brawl with the National Front and Infidels, rival far-right organisations whose openly proclaimed neo-Nazism and white supremacism undermines the EDL's official line that the movement has no connection to fascism.
As for the turnout, the EDL were predicting an attendance of 1500 ("one EDL footsoldier present for every victim of Muslim rape, plus 100 extra to escort that disgraceful excuse of a human being Shaun Wright"), and later posted a claim that there were an "estimated 4000 patriots in Rotherham", accompanied by photographs that had been carefully cropped to avoid showing the whole demonstration.
South Yorkshire Police estimated the total number of protestors (including UAF) at around 1000, while Hope Not Hate reported there were about 600 on the EDL march.
Update:  It has been reported that EDL protestors attacked a mosque in Rotherham. Pictures of a broken glass door at Markaz-ul-Uloom Al-Islamia have been circulated on social media. (The police have stated that among the ten arrests made for various offences one was for causing damage to a mosque.)