Former Respect leader Salma Yaqoob's appearance on BBC's Question Time last night was typically impressive and won her at least one unlikely admirer.
Salma's appreciation of the support she received was soured by the revelation that an EDL supporter with the Facebook identity of Steve Littlejohn had posted threats against both Salma and Unite Against Fascism joint secretary Weyman Bennett.
He wrote: "if that salma yaqueb's there, cut her fucking throat, rip weyman bennets teeth out with pliers and carve edl across all the asian scum who try and attack us".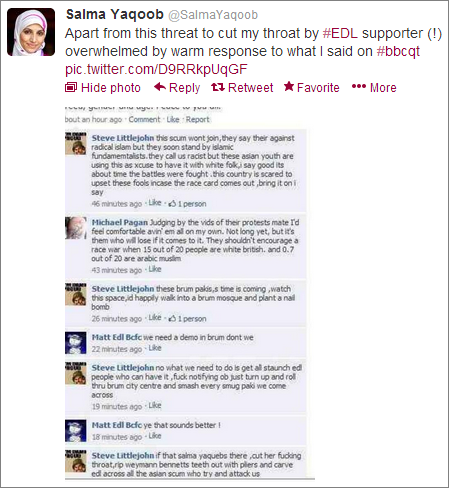 Update:  See "Death threats made to Salma Yaqoob after Question Time appearance", Birmingham Mail, 8 June 2013