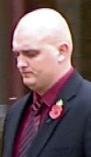 A former hospital worker involved with a far-right political group used Facebook to encourage people to petrol bomb an Indian takeaway at the centre of a major child abuse probe.
Carlisle Crown Court heard how Alan Clarke's reckless comments on the social networking site led to him being sacked by bosses at the city's Cumberland Infirmary.
He admitted using Facebook to collude with others in a way that could have encouraged people to commit criminal damage – namely by attacking the Spice of India takeaway in Botchergate, Carlisle.
Prosecutor Mark Lamberty described how the 27-year-old defendant had read about a police investigation into the systematic sexual abuse of young girls in the city. The man arrested for those offences – and later convicted and jailed for 15 years – was Spice of India's Bangladeshi boss Azad Miah.
Mr Lamberty outlined a Facebook conversation Clarke had with another man on October 4 last year.
One comment posted by Clarke stated: "People think I'm a racist because I'm always having a go at these lot. I think this is a good enough reason, don't you. Just remember this, curry lovers of Carlisle – if you get your takeaway from Spice of India, you are funding this sick [person's] habit of grooming young girls and worse. And if anyone feels the need to smash the place up, I won't stop you. Ha ha!"
Clarke added: "The place needs petrol bombed."
Police acted swiftly, advising staff at the takeaway to close, which they did. Officers then seized Clarke's computer from his Ridley Road home in Currock and arrested him. In his interview, he described himself as a "keyboard warrior."
"He said he knew what he put was wrong, but he was having a rant," continued Mr Lamberty. Clarke admitted being a member of the far right English Defence League (EDL), but insisted he did not intend the restaurant should actually be damaged. He accepted being reckless.
The court heard that Clarke's previous offences included one committed during a football match and causing criminal damage to the Lazeez Indian takeaway on Blackwell Road in Currock.
Claire Thomas, for Clarke, said: "He was at home recovering from a hernia operation and it's clear that he had too much time on his hands." She said he had not realised the seriousness of the position he put himself in.
Miss Thomas said Clarke had been introduced to the EDL through friends he met at football matches but he has no involvement whatsoever in that any more," said the barrister.
She added that as a result of his crime he had now lost his job at The Cumberland Infirmary, where he worked for eight years, and was at risk of losing his home if he could not find a job to pay for the mortgage he had.
Judge Batty told the defendant that, given his political leanings, his Facebook comments had an air of "triumphalism." He added: "Fortunately, people in Carlisle have a lot more sense than you appear to have and people in Carlisle let justice take its course rather than following idiots like you and other such idiots who are involved in the so-called English Defence League."
Judge Batty imposed a 12-month jail term, suspending it for two years; 200 hours unpaid work; and an electronically monitored night-time curfew for the next six months.
The former Spice of India is now called the Raj Mahal and is run by new management which has no connection with Azad Miah.