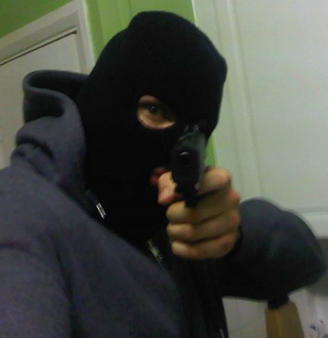 A man has been charged after allegedly threatening on Facebook to make a bomb and massacre Muslims following the killing of drummer Lee Rigby in Woolwich. Tony Perrin, 27, was arrested close to his home in Norbury on Saturday, May 25, after police were made aware of his alleged threats on the social network.
A picture of a man, wearing a balaclava and pointing a gun at the camera, was posted on a Facebook page belonging to 'Tony Croydon', the day after the death of Drummer Lee Rigby last week. A message claiming revenge would be taken was also allegedly posted on the page, belonging to Tony Mundy. The page also advocates support for the English Defence League (EDL) movement against Islamic extremism.
Drummer Rigby, 25, was run down with a car and then attacked by two men with knives and a meat cleaver in the street last Wednesday, just yards away from Woolwich Barracks. In the following days police in Croydon visited community leaders to reassure them following Drummer Rigby's death. Officers met and spoke with community leaders, including the borough's mosques to calm any concerns, following attacks on some religious buildings elsewhere in the country.
A number of people nationwide have been charged with making malicious comments on social networks following Drummer Rigby's murder. Some have been accused of inciting racial or religious hatred, while others have been arrested on suspicion of offences under the Communications Act.
Mr Perrin, a scaffolder, is accused of posting a message that was grossly offensive or of an indecent, obscene or menacing character. He has been bailed to appear at Hammersmith Magistrates' Court on June 12.