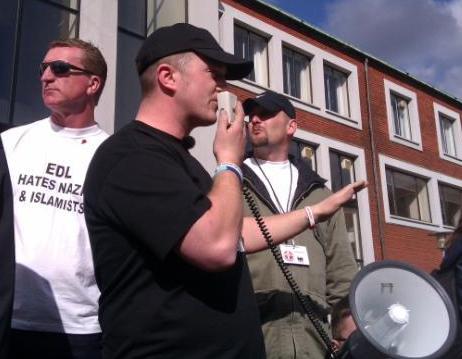 Anti-fascist demonstrators outnumbered far-right supporters more than 20 to one in Denmark as an English Defence League-led attempt to form a pan-European movement was humiliated.
Estimates suggested as few as 160 defence league members from several countries gathered at the inaugural far-right summit in Aarhus for the European counter-jihad meeting, devised to "send a clear message to the leaders of Europe" that Islamism would not be tolerated.
EDL leader Tommy Robinson admitted only 15 supporters from England made the trip, despite earlier speculation that hundreds might attend. In comparison, an anti-fascist demonstration in the same city to protest against the arrival of the EDL attracted up to 4,000 people.
Fears of violence had seen local police mount their biggest operation on the Jutland peninsula with the tense atmosphere amplified by the start of the trial this month of Anders Behring Breivik, the far-right extremist and anti-Islamist who confessed to the murder of 77 people in Norway last July.
A cohort of the Norwegian Defence League travelled to Aarhus. Although none condoned Breivik's actions, some said they shared his frustrations. One, who would be named only as Simon, from eastern Norway, said: "He had some important points. There are people who share his thinking, if not his methods."
The low turnout in Aarhus is in fact the second time the EDL has travelled abroad to try to forge alliances. Its first attempt, in Amsterdam in 2010, was widely dismissed as a "damp squib" attracting about 60 supporters who were met with fierce opposition from Ajax football fans and anti-racist supporters. Robinson, the main attraction at the Aarhus summit, was unrepentant despite even fewer of his followers appearing, saying: "Just wait until there are hundreds of us coming in."
Picture: EDL leader Stephen Lennon addresses the rather thin ranks of the European "counter-jihad" movement. EDL second-in-command Kevin Carroll is on the left wearing the T-shirt proclaiming that the EDL hates Nazis – a message just ever so slightly undermined by the fact that the individual on the right is former BNP organiser and bodyguard to Nick Griffin, Stuart Bates.
Update:  See also "Far right militants fail to strike blow against Islam on their Danish awayday", Observer, 1 April 2012
Update 2:  And "Antifascists humiliate EDL's cronies in Aarhus, Denmark", UAF news report, 31 March 2012
Update 3:  Over at Atlas Shrugs mad Pamela Geller has reproduced the speech delivered by Anders Gravers of Stop Islamisation of Europe at the Aarhus rally. Some excerpts:
Most of us here today know we are in a war. A war that has been fought for centuries. Even those who have not yet realised that we are in a war know we face a big enemy that plans to rule the world This enemy of freedom is called Islam and Muslims are its soldiers….

Islam is not a religion. It is the world's biggest hate group. Muslims choose to be members of this hate group….

Islam is in reality a political party because it has its own manifesto to rule the world. Islam is a dictatorship. Its manifesto crushes all freedom. It dictates how people should behave for every second of the day.

Islam is the opposite of freedom, just as communism is. But Islam is worse than communism. It is communism with a vicious, violent god attached. This so-called god commands Muslims to make war on the Kuffar who live around them….

The Koran should be banned for being a manual of hate, just as some European countries have banned Mein Kampf. Mein Kampf means "My struggle". Jihad also means "My struggle". The difference is for Muslims, the struggle is to make Islam rule the world.

Both Mein Kampf and the Koran are full of Jew-hating…. Recently we saw in Toulouse just what Islam's Jew-hatred brings to Europe. 70% of attacks on Jews in France are done by Muslims. And this is being repeated across Europe….

Every mosque being built must be protested against. Not only must protests be held outside mosques, but also the building companies making the mosques. Also the councils allowing mosques to be built.

Whenever a woman, or even worse, a child is raped, we must protest outside the mosque closest to where it happened…. The media must be challenged to report our protests or we will accuse them of supporting the violence of the world's biggest hate group. Islam.

All anti-Islam groups must work together to defeat our enemy and to win this war.

Victory is ours. NO SURRENDER.
Update 4:  "This enemy of freedom is called Islam and Muslims are its soldiers…. Islam is not a religion. It is the world's biggest hate group. Muslims choose to be members of this hate group."
You might think that the EDL – who insist that they are not against Muslims as such, only against "Islamic extremists" and/or Islam as an ideology – would be quick to dissociate themselves from Gravers' rant. You would of course be wrong: