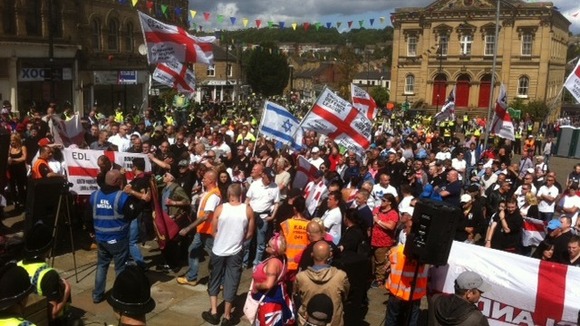 EDL protesters in Batley received a lukewarm reception today when they held their first national demonstration in the town.
Up to 350 people from across the country are believed to have taken part in the rally, which was held in Batley market place. But local campaigners and residents said that the far-right group were not welcome in the area and that the event had been a 'huge waste of taxpayers money.'
Hundreds of police officers from Yorkshire, Humberside and beyond were drafted in to oversee the demo, which was called in protest at what the EDL say is the growing influence of Islam and English people "treated as second class citizens." A group marched from the Wellington pub into the square, where they gathered for just over one hour from 1pm to hear speeches, whilst surrounded by police.
Considerably smaller than the national demonstration that took place in Dewsbury in 2012, they waved St Georges Cross and Israeli flags whilst chanting 'Yorkshire' and 'EDL'. It is the first time a national EDL protest has been held in the region since joint founder Tommy Robinson left in 2013, when he sighted concerns of 'dangers of far-right extremism' and violence.
Most shops remained open for business during the event, except for Boots, which closed until 2.15pm and the Post Office, which did not open at all.
Meanwhile, a multicultural community event called We Are Batley, which was also monitored by police, attracted in between 60 to 100 people when it began earlier in the day in nearby New Way car park.
One of the organisers, chair of Kirklees TUC, Bob Stoker, said: "We hope it's just a one off and that Kirklees Council don't let them march again here and try to stoke divisions. It was important that we were here today to get the message across to the EDL that they are not welcome with their racism, violence and attempts at division. These streets belong to everyone in Batley."
Batley West councillor, Shabir Pandor, who was also present, said: "It's not good that they are here but the key thing is that, by looking at the turnout, that the community isn't interested. They've had to bus people up from all over the country to attend. We don't have the cost figures yet but it will be a waste of taxpayers' money."
Residents who joined the event and came to watch the EDL rally also expressed their feelings towards the day.
Community activist, Shabbir Shaikh, said: "Many Asians were frightened here in the 80s but it's definitely changed a lot for the better now. We've got a much more tolerant community who live together in peace and we want it to stay that way."
One, who did not want to be named, said: "I don't agree with their points and think it's very divisive."
But another said: "I just came to see what was going on but it's hard to hear what they've been saying so I'm not sure what to think. They have a right to speak their mind and I think from what I know about them I do agree with them on some things."
Some EDL protesters were led by police straight after the demonstration onto half a dozen coaches and Geldards buses, which transported them out of the town, whilst others were escorted to the train station where a free train was put on to take them to Leeds with the assistance of British Transport Police.
Huddersfield Daily Examiner, 9 August 2014
See also "Hundreds gather as English Defence League marches through Batley", Batley & Birstall News, 9 August 2014