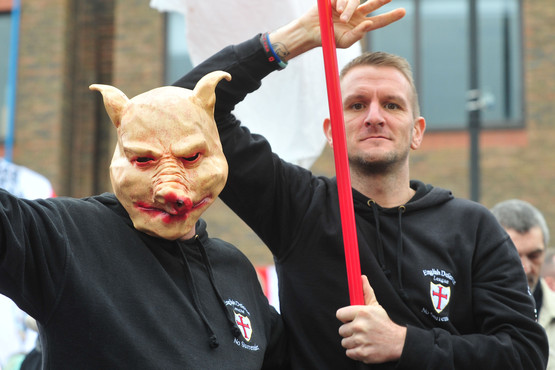 Today's English Defence League (EDL) march in Luton passed without incident this afternoon (Saturday).
This was down to a high police presence and both the EDL march and protest being kept at a distance from a counter protest organised by groups such as United Against Fascism. Officers from police forces all over the country were brought in, from as far afield as the East Midlands and Essex, to contain the protest.
There was a small incident when speeches were being given by EDL members in the centre of Luton, when some members of the counter protest appeared, with a small number of EDL members trying to confront them, but swift action by the police prevented any violence.
Around 400 members of the EDL, with over a hundred present at the counter demonstration. Six were arrested for breach of the peace in Inkerman Street. One of those arrested, a 43-year-old Luton woman was found in possession of an offensive weapon.
Chief Inspector Greg Horsford, who led the policing operation around the demonstrations, said: "We are pleased that both demonstrations passed without any issues. We have worked closely with both groups in the lead-up to today and have ensured that the concerns of the community have been paramount throughout. We respect that people have the right to protest peacefully and will continue to help facilitate that right. We would like to thank the people of the town for their patience and co-operation in the build up to the events and throughout today."
Cllr Hazel Simmons, Leader of Luton Borough Council, said: "I'm pleased Luton remained open for business, with people safely carrying out their usual Saturday activities. I certainly did some successful Christmas shopping in the Mall. I would like to thank members of our local community for their patience, understanding and co-operation. It is the duty of the police and the council to uphold the right of any group towards lawful and peaceful protest – and that is what happened here today."
Luton on Sunday, 22 November 2014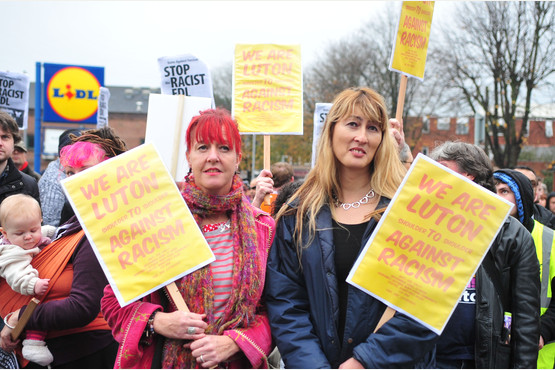 Among the speakers at the EDL rally was Paul Weston, leader of the far-right groupuscule Liberty GB. He took the opportunity to announce that he will be standing in the Luton South constituency in next year's general election. According to the deluded Weston, his candidacy will turn Luton South into a "Liberty GB/Labour battleground". In reality, of course, the chances of Weston even getting the 5% of the votes necessary to save his deposit are negligible.