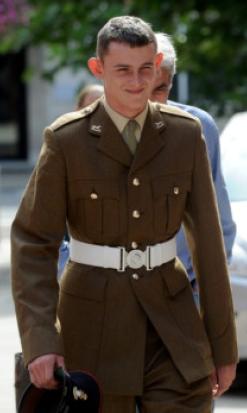 A soldier who smashed up an anti-racism event with his English Defence League pals is set to be kicked out of the Army.
Cavan Langfield, 18, and a gang of mates stormed a Rock Against Racism gig in Leeds last year. They smashed windows and hurled bricks and bottles, knocking a teenager's tooth out.
Langfield, from the Yorkshire Regiment, and eight other members of the gang were convicted at Leeds Crown Court last week.
A source at the Ministry of Defence said: "The wheels are in motion to get him thrown out. That's a whole promising career up in flames."
Langfield, from Huddersfield, West Yorks, was slapped with a one-year community order, 200 hours of unpaid work and £250 compensation.
In July, the Daily Star Sunday revealed the teen had become a dedicated follower of the anti-Muslim group, travelling across the country to attend marches.
A spokesman for the MoD said: "All those who are found to fall short of the Army's high standards or who are found to have committed an offence under the Armed Forces Act are dealt with administratively (up to and including discharge) or through the discipline process, as appropriate."
Daily Star Sunday, 9 September 2012
Still, Langfield can take consolation in the fact that he does have at least one enthusiastic supporter.