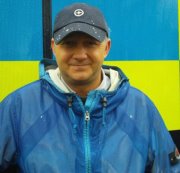 An English Defence League supporter who was jailed for chanting racist slogans at Muslim worshippers failed to get his sentence cut. Daniel Philip Parker, 39, shouted slogans including "Muslim bombers off our streets" near Barnsley's Muslim Community Centre after returning from an EDL rally in Blackburn in April.
In September, following a guilty plea to religiously aggravated harassment, Parker, of Prince Arthur Street, Barnsley, was jailed for eight months at Sheffield Crown Court. He appealed, but was told by two senior judges at London's Court of Appeal that the eight-month term was justified for such a serious incident.
Judge Michael Mettyear QC said Parker was of good character and had shown remorse for his actions, but his offence was too serious to merit a cut in the sentence.
"It goes without saying that conduct such as the appellant's is regarded as very serious, particularly so when it is seen in the light of the conduct of those others in his party, who were behaving at least as badly as he was. Fortunately, serious violence did not erupt, but it is easy to see how a major reaction could have resulted from such disgraceful and frightening behaviour."
Barnsley Chronicle, 21 November 2011
Meanwhile, EDL supporters have reportedly attacked protestors at the Occupy Bristol camp.
And (via Expose) here is a post from the EDL's Facebook page (it has since been removed).