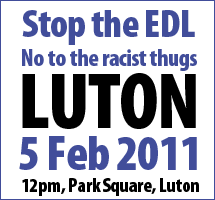 Far-right activists from across Europe will join thousands of English Defence League supporters tomorrow for the biggest rally in the group's 20-month history.
Police expect up to 7,000 demonstrators will descend on Luton, the Bedfordshire town where the EDL started in spring 2009, amid evidence of the group's growing influence among young people.
The organisation has staged more than 30 protests since it was formed, many of which have been marred by Islamophobia, racism and violence.
This rally will see more than more than 25 coaches transport members to Luton from across the UK, with thousands more activists due to make their way by car or train. One EDL activist said 800 far-right supporters would be meeting at Kings Cross train station in London before travelling north.
UK-based members will be joined by activists from recently formed copycat "defence leagues" in Norway, Sweden and the Netherlands – as well as supporters of more established far-right groups from France, Germany and Denmark.
Nick Lowles, from the anti-racist campaign group Hope not Hate, said the presence of these groups underlined the EDL's growing international links.
"The significance of the EDL marching in Luton extends way beyond our shores," said Lowles. "Across Europe and in North America anti-Islamic groups are watching the EDL with interest, increasingly copying their tactics, even replicating their name. The attendance of so many international supporters is testament to the EDL's role in the international anti-Islam movement."
Details of the Unite Against Fascism counter-demonstration can be found here.