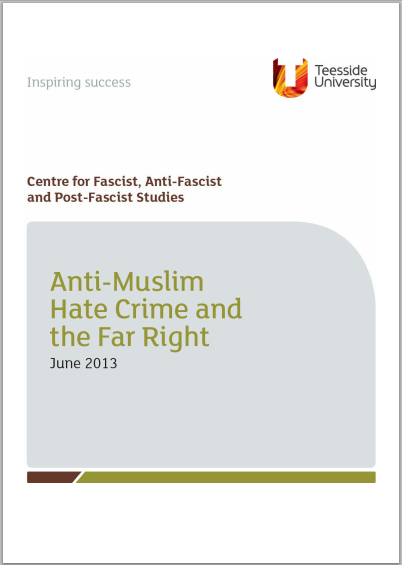 The mere presence of English Defence League (EDL) flash mobs is enough to induce fear without raising a brick or a baton. But new research by the Centre for Fascist Studies at Teesside University shows the EDL online presence is even more vitriolic and disturbing.
It's the first study of anti-Muslim sentiment in the UK and is based on data from the monitoring and helpline charity Tell Mama where victims can report details of abuse either on the streets or online.
The data amounts to 584 recorded incidents of anti-Muslim hate crime in the year between April 2012 to April 2013. Almost two in every three cases were not reported to police. The majority of cases – 434 incidents – were online abuse: 300 were linked to the far-right movement, and 147 of those were linked to the EDL – a third of all online anti-Muslim incidents.
The report publishes examples such as: "Hope your mosque has fire insurance Muslim immigrant xxxx. Fried halal ." "…We don't marry our dad like your muzrats." "Pakistan factory fires kill at least 261… SUCH A SHAME LOOOOOL." "You can lead a Muslim to culture but you can't make him think".
The report suggests that there's been a 150 per cent rise in anti-Muslim hate crime in London for the year ending May 2013. That would take in the post-Woolwich events when there was a spike in incidents following the murder of soldier Lee Rigby.
Tell Mama recorded an immediate spike post-Woolwich: from an average of 1.5 incidents a day, to six to seven incidents a day. But the authors said further research was needed to establish whether the rate of incidents returned to normal.
There is not such a significant link to street abuse: the report found that only one in four incidents are clearly associated with the far-right. They range from placing a pig's head in a garden, graffitti, broken windows and verbal abuse.
See also "Far right turning to the internet to spread anti-Muslim hate online", Teeside University press release, 1 July 2013