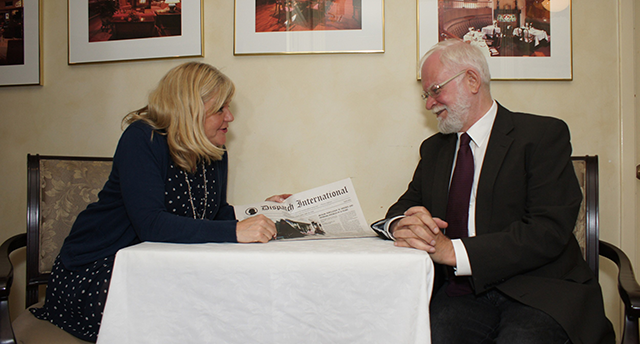 As we have already reported, the "counterjihadist" publication Dispatch International has been having difficulty finding venues for the Scandinavian speaking tour it had arranged for English Defence League leaders Stephen Lennon and Kevin Carroll later this month.
DI editors Ingrid Carlqvist and Lars Hedegaard (pictured) hired the Malmö Konferenscenter/Folkets Hus for the Swedish leg of the tour, only to have their booking cancelled by management. This was followed by the cancellation of the booking at the Odd Fellow Palæet, which was the advertised venue for Lennon and Carroll's appearance in Copenhagen.
Carlqvist and Lars Hedegaard were reduced to holding meetings at undisclosed venues, the location of which would not be revealed until a few hours before the start of the event. But that plan has collapsed too.
Earlier today Carlqvist announced: "There will be no public meeting with the two EDL leaders Tommy Robinson and Kevin Carroll. Dispatch International has been forced to realize that Sweden no longer enjoys freedom of speech and assembly. Nobody will rent us a hall and we have had to rethink."
According to Carlqvist, the halls they tried to book in Malmö turned them down because "there was a risk that violent fascists [i.e. anti-fascists] would gather outside". She writes: "Malmö is a city ruled by the mob. Stone throwers and screaming hooligans intimidate normal and peaceful people and kick the feet from under our constitutional rights."
This was certainly not the reason given by the Malmö Konferenscenter for their decision to cancel the booking. They sent Carlqvist and Hedegaard the following email, which has been quoted by DI itself: "After being informed that your arrangement on September 28 is a presentation by the extreme right organization, the English Defence League … we have decided that we will have nothing to do with organizations of this type. We therefore cancel your booking for the arrangement."
What management at this venue objected to was not the potential violence of any counter-protest but rather the use of their facilities to incite hatred. DI faces the closure of its PayPal account for the same reason.
Instead of a public meeting, DI will now be holding a small gathering "for a few people we can trust" at a "secret location" in Malmö – perhaps someone's living room? – and the proceedings will be "streamed live over the Internet and will be available at the price of 3 Euros".
Although Carlqvist's report is unclear on this point, it looks as though Lennon and Carroll won't be appearing in Denmark at all. If so, their Scandinavian speaking tour will be reduced to one meeting in a small room in Malmö.
Quite why it is necessary for Lennon and Carroll to travel to Sweden for this purpose is not explained. Surely they could just as well do a video broadcast from Luton?