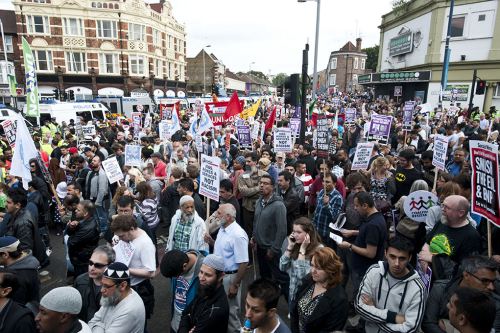 The racists and fascists of the English Defence League (EDL) were comprehensively routed on Saturday. Thousands of anti-fascists blocked their march route and stopped their rally in Walthamstow, east London.
The EDL only managed to mobilise 200, mostly hardcore Nazis. The anti-fascist demonstration, in contrast, brought some 4,000 people together representing all the diversity of one of London's most proudly multiracial areas.
"It's been a brilliant day – we completely trashed them," said Siobhan, a Waltham Forest resident. "We had a really united campaign that reached out to the whole community. We wanted to stop the EDL and that's what we did."
Police had planned to march the EDL down Forest Road from Blackhorse Road tube station to the town hall for a rally. But this route was blocked by the anti-fascist march, which staged a sit-down protest at a key junction between Hoe Street and Forest Road.
This mass action sent the police plans into disarray. From that moment on it was downhill all the way for the Nazis.
Anti-fascists split into smaller groups at this point, some staying at Hoe Street with others breaking off to occupy other key points. The EDL march was rerouted through the back streets of Walthamstow, where they met abuse and hostility from local people.
One group of around 400 anti-fascists broke through to occupy the EDL's rally point outside the town hall. EDL leaders Tommy Robinson and Kev Carroll were there with a dozen or so supporters. They had to take down their sound system.
Robinson and Carroll were visibly shaken by the size and anger of the anti-fascist presence at the very place they had planned to hold their rally. The pair were later witnessed having a blazing row with each other.
Meanwhile local youths in small groups played cat-and-mouse with the police and harassed the EDL. The police announced that the EDL rally had been cancelled and ferried the despondent racists back home the way they came. There were no arrests on the anti-fascist side.
At points the uglier side of the EDL's racism came out. A Socialist Worker journalist witnessed the EDL yelling "jump" as they passed a black resident looking down on them from his balcony.
But as they slunk off they knew they had been beaten. They couldn't even manage their characterstic grunting chant of "E-E-EDL". Instead the air was thick with local youth jeering at them and chanting "Nazi scum, off our streets".
The day had started with an anti-EDL rally nearby Walthamstow Central station, hosted by Unite Against Fascism and We Are Waltham Forest.
"We live just round the corner and we feel strongly about this," local resident Aftab told Socialist Worker. "It's about for our rights in Walthamstow. I lived here in the 1980s and I'm not going back to that racism. So it's good to see so many people here."
Speakers included local MP Stella Creasy, alongside speakers from mosques, trade unions, faith groups and local activists.
Mark Campbell from the UCU union at London Metropolitan University spoke about the battle there to stop the threatened deportation of up to 3,000 international students who have had their visas revoked by the UK Border Authority.
"There's a connection here," he said. "Racist policies by the government give confidence to racist thugs on the streets. That's why trade unionists have to stand up against racism and fascism."
The mood was confident and upbeat, especially when protesters saw the size and diversity of those that had come out to try and stop the EDL. This mood grew as they day went on and the extent of the EDL's humiliation became clear.
Weyman Bennett, joint secretary of Unite Against Fascism, toldSocialist Worker, "We came, we saw, we defeated the EDL. This magnificent alliance that brought together anti-fascists, trade unionists, faith and community organisations is a model that can defeat the racists."
Socialist Worker, 1 September 2012
See also "They did not pass: Walthamstow residents send English Defence League packing", Morning Star, 1 September 2012
And "Very few EDL show-up in Walthamstow", Indymedia, 1 September 2012
Also "EDL suffer humiliating defeat in Walthamstow", EDL News, 1 September 2012
And Peter Marsall "We are Waltham Forest greatly outnumber EDL in Walthamstow", Demotix, 1 September 2012
Update:  Over at Atlas Shrugs mad Pamela Geller has posted a fantasy account of the events in Walthamstow, according to which "1000 freedom lovers" (i.e. the racists and fascists of the EDL) were confronted by "Muslims kicking off and rioting burning cars". The source for this claim is a leading EDL member named Mickey Bayliss. That would this Mickey Bayliss. Memo to Pamela: if you're going to stick with the ludicrous story that the EDL aren't racist, you'd be well advised to avoid drawing attention to people like Bayliss.
Update 2:  See "Magnificent show of unity in Wathamstow", UAF news report, 2 September 2012
Update 3:  And (via Expose) here is one EDL member's assessment of their experience in Walthamstow.