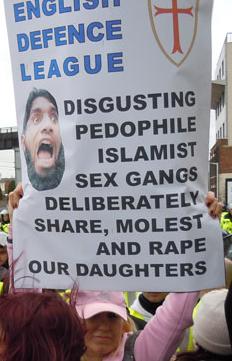 Rochdale shop owners are preparing ahead of tomorrow's English Defence League march. The far-right movement will descend on the town at 1.30pm to demonstrate against what they see as an expansion of Muslim extremism.
Rochdale MP Simon Danczuk urged the town to continue as usual. He said: "Tomorrow's 'protest' is nothing more than an attempt to stir up racial tensions and incite violence. The police are fully prepared to deal with this and the protest will be outside of the town centre, which will be open for business as usual. I would urge everyone to continue to support local shops and businesses."
Local group Rochdale Unity, who will be holding a counter protest at the same time, accused EDL of exploiting the recent case of sexual exploitation of young women in Heywood, which saw nine Asian men handed prison sentences.
EDL splinter group Casuals United have issued a "fatwa" against any media who attend tomorrow's event without having been invited by EDL leaders, saying they will be treated as "hostile".
Mancunian Matters, 8 June 2012
See also NUJ statement, 8 June 2012