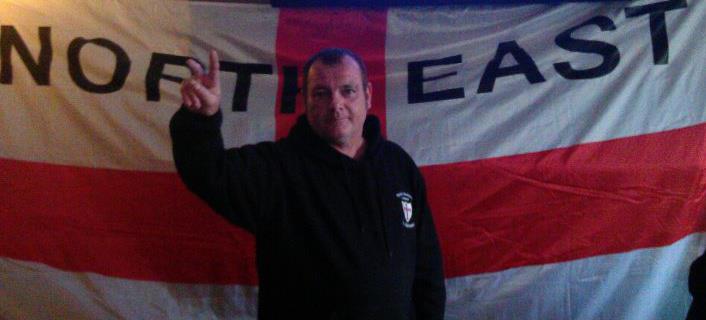 Paul Ross of Durham EDL – claimed 'sickening' religious chant was just a 'bit of banter'
Six men with links to a controversial right-wing pressure group have been convicted of chanting a sickening torrent of religious abuse.
The men, who are associated with the English Defence League (EDL), shouted a highly inflammatory religious chant at Middlesbrough railway station. They were convicted of religiously aggravated disorder yesterday after a two-day trial at Teesside Magistrates' Court.
The men – who represented themselves during the trial – shouted the abuse at the station on Saturday, December 10, 2011. The group was in Middlesbrough to watch Boro play Brighton, but when they decided it was too cold they visited several pubs in the town instead. They then went on to the railway station, the court heard.
PC Andrew Ward, of British Transport Police, told how he approached the "drunk", "noisy" group three times telling them to calm down. He said the group was singing EDL chants and when the men started singing a highly inflammatory religious chant he decided to eject them from the station.
He added that as the group left, one of the men, Christopher Caswell, 32, became aggressive and raised his fist. The officer responded by spraying him with CS spray and called for police back-up.
As PC Ward walked from the court after giving evidence there was hissing from the public gallery.
When asked to describe an Islamic person in police interview, 22-year-old Jak Beasley said: "Scum".
All men denied two charges of religiously aggravated harassment and using threatening words or behaviour to cause harassment alarm or distress.
They said they were associated to the EDL in some way and said some EDL chants as well as the national anthem had been sung. But they all strongly denied singing the highly inflammatory chant in question. Paul Ross, 47, who told the court he runs the South-west Durham Division of the EDL, said the group was just having a "bit of banter".
Throughout the court proceedings, the defendants were repeatedly told by the chairman of the bench, Elizabeth Hutchinson, to remain quiet and to stop treating the proceedings as a "big joke".
EDL supporters gathered in and around the court yesterday along with a strong police presence.
Following the verdict, onlookers in the public gallery shouted the conviction was a "stitch up", while the defendants shook their heads and continued to express their innocence.
Beasley, of Teal Street, Bishop Auckland, Caswell, of West Auckland Road, Darlington, and Ross, of Auckland Wind, Shildon, along with Shaun Bunting, 33, of Fenhall Green, Newton Aycliffe, Ross Williams, 23, of Ebberston Court, Spennymoor, and Dean Spence, 22, of Yew Close, Spennymoor, will be sentenced on September 14.
Evening Gazette, 25 August 2012
The EDL's response ("The NE EDL refuse to be silenced, we WILL speak out against Islam no matter what the police and authorities do to us, no matter how much they hound us we will never be silenced and will protest whenever and wherever we want") can be consulted here. They are calling for a national demonstration in the North East to protest against the convictions.
One EDL supporter produces a familiar argument in defence of his right to abuse Muslims: "Religion is a choice, to what race you're born is not – that's why to criticise someone because of their race is wrong but to criticise someone's choice and religion is my right to freedom of speech."
Perhaps he should try and explain that distinction to Paul Ross.