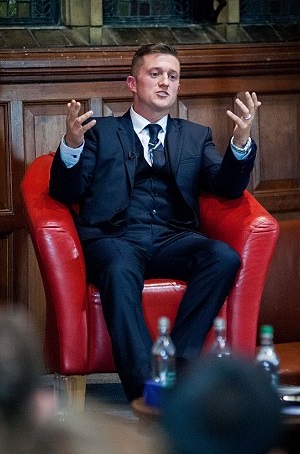 English Defence League (EDL) founder Tommy Robinson has given a talk to an audience of 250 at the Oxford Union as demonstrators gathered outside.
Unite Against Fascism (UAF) criticised the union for allowing him the platform, saying he had not renounced the views of the EDL since leaving.
Mr Robinson, 31, said: "I have a difference of opinion to them and they're the ones acting fascist." The union said it was founded to promote the freedom of speech.
It was the third attempt to get Mr Robinson, real name Stephen Lennon, to talk at the union – the first having been cancelled amid security concerns and the second because he was sent back to prison.
Protesters from the Socialist Workers Party, Unite, Unison, and UAF gathered outside.
Speaking to the BBC afterwards, Mr Robinson said: "It was a good reaction. A lot of people said I was not what they expected and what the media had portrayed, and that they were happy to hear what I had to say from my own mouth.
"Some people would demonstrate over the rain in that UAF organisation. If you're not going to allow people to talk about these serious issues that need talking about in places like the Oxford Union, don't moan about them on street corners.
"I was completely honoured and privileged and I don't think many people get to have that opportunity, especially from a working class town and community like Luton. To know that William Gladstone spoke there, to know that Winston Churchill spoke there, for me, is a huge honour."
Speaking for two hours, Mr Robinson criticised politicians, the media and police for failing to tackle certain criminal activities because of the fear of being labelled Islamaphobic. "No-one wants to rock the multi-cultural boat," he said.
Mr Robinson has now left the EDL but more than 200 people signed an open letter protesting at the decision to allow him to speak.
He told the audience he was not allowed to talk about certain issues because he was out on prison licence. "I have three children, and I don't want to spend Christmas in prison… I regain my freedom of speech on the 22 July 2015. I would be happy to come back and speak to you freely then."
Weyman Bennett, national secretary of UAF, said it had called the demonstration because it believed Mr Robinson still held racist views.
"The EDL collapsed because he acknowledged the presence of racists and fascists within it," he said. "I don't believe by giving him a platform we contribute to stopping far-right views, in fact we endorse them. The danger is it gives respectability to a part of politics that should not be given respect."